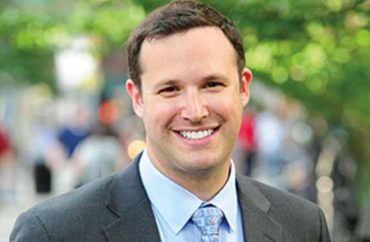 While college students often intimidate each other into silence, professors should promote freedom of inquiry, political science professor and senior American Enterprise Institute fellow Samuel Abrams wrote in a November 22 op-ed for Real Clear Education.
"On my own campus [Sarah Lawrence College], I've seen far too many cases of self-censorship," Abrams (pictured) wrote. "An advisee of mine regularly shares stories with me about being bullied into silence by progressive classmates."
Students on campus fear of being recorded, having their words taken out of context, and of being ostracized by their peers, according to Abrams. A landmark 2021-22 study by Foundation for Individual Rights and Expression surveyed over 44,000 students at 208 colleges and "suggest[ed] that students are more comfortable speaking outside of the classroom than in it," Abrams stated.
Fifty-eight percent of students reported feeling intimated in sharing their opinions by professors, the highest level measured in eight years, according to the William F Buckley Program's eighth annual college survey, released on October 25, 2022.
Even more, liberal undergraduates reported feeling intimidated in class at the same rates as their moderate and conservative peers. "This suggests that even those on the left do not want to be canceled or attacked for refusing to express woke orthodoxy," Abrams wrote.
Professors should step in to improve this dynamic, Abrams wrote:
In short, significant numbers of college students today are worried about running afoul of both their professors and their peers. This is unambiguous. It is absolutely critical that professors work to change this dangerous dynamic. While professors cannot control students' behavior online and outside of the classroom, they can foster a more inclusive classroom. Professors can work to create environments where students are no longer afraid to raise questions, speak their minds, and share many of their views.

College faculty can show students the value of viewpoint diversity in learning and can push back on the administrative class at universities that promote a culture of wokeism, cancellation, and "gotcha-ism" that is infecting students. For colleges and universities to thrive again, professors must model the virtues of higher education: open expression, freedom of inquiry, and the ability to make mistakes without fear.
Both the bullying students and the bullied could use their elders' guidance in listening and speaking out.
Real the op-ed.
IMAGE: American Enterprise Institute
Like The College Fix on Facebook / Follow us on Twitter