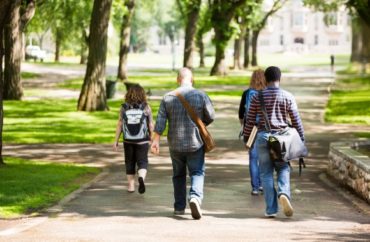 A feature in The Atlantic reports that Purdue University has frozen its tuition at less than $10,000 for seven straight years. What's more, the price of food services and textbooks is down. In other words, it's less expensive today than it was in 2013 to attend Purdue.
The results speak for themselves.
Enrollment's up. Applications are up. Donations are up (by 136 percent over six years!) Even faculty pay is up: full-time professor salaries have increased by 12 percent over the past five years compared to similar schools where scholars have received 7 percent bumps over the same period. Exciting campus construction improvements are also creating a flurry of excitement on the grounds, including new research facilities, residence halls and a learning center "the size of a power plant," reports Andrew Ferguson.
In effect, at a time when the "average annual cost of a degree at a four-year public university like Purdue rose from about $15,000 to more than $19,000—a jump of 28 percent after taking inflation into account" — Purdue appears to be the most successful model in the nation of how a public institution of higher education should be run.
Those wondering how need look only at its helm and its notoriously frugal President Mitch Daniels, who earned the name "The Blade" in his previous job directing President George W. Bush's budget office, Ferguson notes:
"I'll tell you a funny story," said Mitch Daniels, the president of Purdue University. It was the day before the first home football game of the season and he was sitting in his corner office, overlooking the postcard-perfect quad.

"So the cost of a year of undergraduate college at Purdue University, tuition and fees, is $9,992. I'm proud of that number.

"One day I'm looking at one of those college guides, and it said, 'Tuition and fees: $10,002.' I called up our people and said, 'Lookit here, there's a mistake. You got the wrong number.' They said, 'That's not a mistake.' I said, 'Yes, it is. Believe me. I know.' They went back and checked and they said, 'No, that's the right figure.'

"It just bugged me to death. Does Walmart have a special and price it at $10.02? I found out what happened. There's a second installment on a preexisting gym fee that got tacked on. Ten dollars plus $9,992 equals $10,002.

"Next time I'm at the gym, I ask the guy who runs it, 'How's it going here?' He said, 'Membership's up; we're doing well, making a little profit.' I thought, Okay, that's all I needed to know. And the next meeting of the board of trustees, they repealed that fee.

"So now we're back to $9,992," he said. There was both self-deprecation and a note of triumph in his chuckle. "I don't know why it bugged me so much, but it did."
The article paints a picture of some of the solutions Daniels put in place to make his campus a model of success that included a series of wise investments in cost-saving technologies, partnering with the surrounding communities, and avoiding the pitfalls of other universities that have relied on international students' tuition and more money from the government to stay afloat.
Read the article in The Atlantic.
IMAGE: Tyler Olson / Shutterstock
Like The College Fix on Facebook / Follow us on Twitter