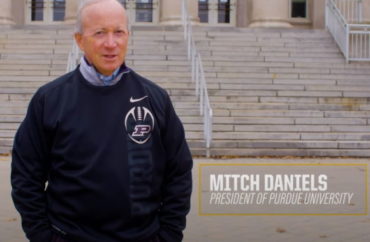 The Chronicle of Higher Education has the story of how one university refused to shut down over COVID, and it's so far so good:
In May, Mitchell E. Daniels Jr. proclaimed confidently that Purdue University had an institutional duty and sufficient scientific evidence to reopen for in-person courses in the fall. Students want to be there, Purdue's president argued in a column for The Washington Post, and the risk of serious illness to students from Covid-19 was extremely small.

Denying 45,000 tuition-paying students an opportunity to study on campus for the semester would be "a gross disservice to them and a default of our responsibility," Daniels wrote just two months after most colleges across the country shut down, moving all courses online.

Daniels was criticized within the university and beyond for reopening the campus at the risk of causing an outbreak not only among students, but also faculty and residents of the small city of West Lafayette. As it turned out, the university made it through the semester uninterrupted — not entirely unscathed by the virus, but managing to keep the infection rate relatively low with extensive testing, protective measures in classrooms, and a barrage of messaging about personal responsibility.

Daniels is taking the semester as a win, for both the academic and financial benefits of doing so — unlike many campuses, the university has not had to lay off or even furlough any employees.
On December 11, Daniels put out a video thanking students for their cooperation for "protecting Purdue this fall."
IMAGE: Purdue University YouTube channel
Like The College Fix on Facebook / Follow us on Twitter