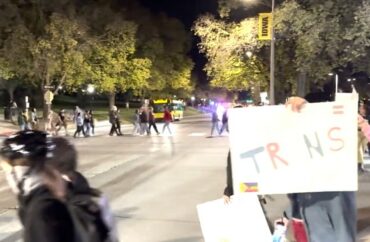 'Both governments and universities can restore order the moment they want'
Massachusetts Institute of Technology, which failed to suspend non-U.S. citizen students participating in an unauthorized anti-Israel protest out of concern they would be deported, could have followed through with its intention.
Haaretz reported Saturday that MIT did not follow through with threats to suspend the protesting students because it feared they would be deported if they had to leave.
However, their "statement is wrong on multiple accounts," Sumantra Maitra wrote Tuesday in The American Conservative.
Student questionnaires for international students specifically ask whether they may "riot, disrupt, or otherwise cause disorder, or take part in terrorist or insurrection," Maitra wrote. If a student commits one of these acts, he is also guilty of perjury against the U.S. government.
What's more, on a moral level, "no country has a duty to train those who violently oppose or seek to destroy all or part of it," according to Maitra.
"Our ability to do anything is a reflection only on our inaction and lack of authority," he wrote:
Both governments and universities can restore order the moment they want. It is really that easy to bring down the fear on students and protesters.

On a generic level, we are reaching the point where the argument has moved away from whether multiculturalism works or fails, to how to plan with a future legislative framework and enforcement procedures of mass deportation of foreigners unwilling to assimilate, circumventing the human rights framework if necessary.

On this broader question at least, it feels like we are on the cusp of the dam giving in.
On a basic level, both universities and countries are justified in making rules to preserve order. Students who reject those rules may forego the preservation of their institutions.
IMAGE: Turning Point USA
Like The College Fix on Facebook / Follow us on Twitter