The tearing down of "Silent Sam" doesn't just mark the destruction of another Confederate statue. For education watchdog Jay Schalin, it's an assault on civility.
Writing for the James G. Martin Center, Schalin argues that the destruction of "Silent Sam" marks the dislodging of "Another brick in the wall that separates civilization and barbarism."
"Another small part of the social contract that calls on us to settle our differences through dialogue and consensus disappeared. Another thin thread in the rule of law was severed," he continues.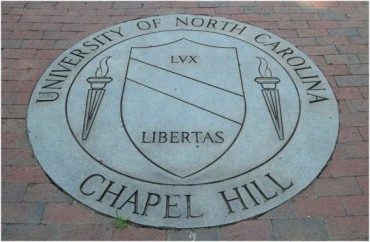 Schalin writes that he believes UNC is now at a crossroads, pointing out it may soon face a similar situation as the University of Missouri: falling applications, admissions, ranking, enrollment.
Schalin, director of policy analysis for the center, implores those who believed that the statue is a symbol of white supremacy and racism to be concerned about its "rough treatment."
"Whether you believe that Sam represented white supremacy, the dignity of the common soldier, or simply the historical record of the state and campus, he now represents the defense of civil society and rule of law," he writes.
The destruction marked an assault on that rule of law for Schalin.
He points to the responses from the legislature and UNC, both of which condemned the destruction of public property. "But those are all words, spoken in the aftermath of a failure. Sometimes words have a hard time becoming actions," he states, before continuing that UNC's defending of the statue was becoming costly for the school, and they were likely to have ignored the violence:
Of great concern is the possibility that UNC-Chapel Hill's administration intentionally turned a blind eye to the violence. Certainly, they had motives to put an end to the Silent Sam's presence on campus. He had become an albatross around their necks: estimates for protecting Sam last school year were upwards of $300,000; his continued presence was divisive; he was a source of bad publicity in the mainstream press and hurt the administration's standing with the school's radical elements.
Indeed, the university's reaction seemed like damage control for Schalin:
To be clear: the university failed to protect Sam, somehow. The reason in the statement seems to be that the police were responsible for all the decisions and that the protesters were too clever for them. That raises more questions than it answers. Can the statement be believed? Are the police conveniently taking the fall for higher-ups? Given the importance of this issue, and given the prior knowledge that a large protest was happening that night, why wasn't Chancellor Folt in charge, or at least in constant contact?
But it's not too late for UNC, Schalin argues. By "taking strong, swift actions to drive off its worst elements and to restore civility, it can become a national leader in the movements to maintain free inquiry and reform the academy."
Like The College Fix on Facebook / Follow us on Twitter