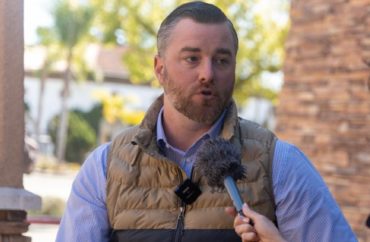 A veteran of the Afghanistan War said President Joe Biden's potential student loan bailout would be a "slap in the face" to men and women who have served or are currently in the military.
Cole Lyle (pictured) recently wrote an essay for Fox News titled, "Biden's student loan forgiveness plan is a slap in the face to veterans and active military."
He wrote:
For most veterans, the choice to join the military was foremost about serving our country. But for many, it was also about receiving benefits to attend college without debt. Earning the GI Bill meant giving up years of their lives, serving in dangerous jobs and situations. The student loan debate is leaving out the impact cancellation will have on the veteran and active-duty community.
He said he had sympathy for people saddled with debt, but there are options to avoid student loans.
"For over 80 years, military service and the GI Bill have enabled millions of Americans to pursue college debt-free, or nearly free," Lyle wrote. "Serve in the military, and the federal government will help ensure you have the resources necessary for success without burdensome debt."
"I joined the Marine Corps two weeks out of high school, deployed to Afghanistan, and earned my degree using the GI Bill," he wrote. "I know firsthand the sacrifices service members made to earn that benefit. They all made a choice."
"In most cases, joining the military meant receiving the GI Bill and the chance to go to school for little to no cost. They earned that opportunity," he wrote.
He urged political leaders to "adequately consider the life-changing decisions service members make for our country and honor their service in this debate."
IMAGE: Cole Lyle/LinkedIn
Like The College Fix on Facebook / Follow us on Twitter