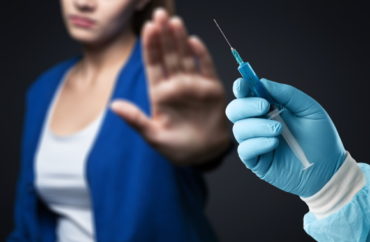 Tyler Arnold | The Center Square
Virginia Tech students delivered a petition with about 500 signatures that urges Virginia Tech to end a policy requiring students to be fully vaccinated against COVID-19 to take classes in the fall.
The online petition, organized by the campus's Young Americans for Liberty chapter, tells officials that any decision to receive a vaccine is a personal and private decision, which should be made between a student, the student's family and the student's doctors.
The petition states decisions about vaccines should not be made by President Tim Sands and his staff.
"The … regulations at Virginia Tech are affecting the lives of millions of students across the country," Ryan Jacoby, YAL's Mid-Atlantic Regional Director, said in a statement. "Their rights are being stripped away by an administration with no regard for privacy, and I'm glad YAL chapters like this one are standing up to this tyranny."
YAL South Regional Director Ian Escalante said vaccine mandates are a violation of the students' rights.
"This arbitrary order is a blatant violation of the students' rights to medical freedom," Escalante said. "It is time for us to set the government school system straight, and let them know that they will not be controlling our students."
The petition received its 500 signatures in about two weeks.
A spokesperson for Virginia Tech declined to comment on the petition to The Center Square, but instead forwarded previous comments the university made regarding vaccine mandates.
"During the past two semesters, we weathered significant surges in COVID-19 cases in Blacksburg," Sands said in a message to students. "We did this through robust testing, self-quarantine, masking, and physical distancing. We must do everything possible to avoid repeating the challenges of the last 14 months, and to ensure that students who cannot be vaccinated are able to participate in campus life and in-person learning. It is essential that every student who can be vaccinated, is vaccinated."
Students can apply for a vaccine exemption based on medical reasons or a sincerely held religious belief.
All other students must receive either one or two shots of a COVID-19 vaccine (depending on how many is required for that vaccine) by Aug. 6 to enroll in classes.
Students planned to hold a protest Monday, which has been postponed.
MORE: Indiana University sued by students over its vaccine requirement
Originally published June 29, 2021, by The Center Square
IMAGE: Billion Photos / Shutterstock
Like The College Fix on Facebook / Follow us on Twitter