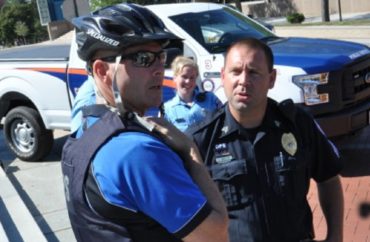 A student columnist at Syracuse University wants his peers to support the work of the campus police force and build better relationships with law enforcement.
"The recent crimes on and near Syracuse University's campus have negatively impacted students and the surrounding community," Anthony Draghi wrote Tuesday in the campus newspaper.
Draghi wrote in The Daily Orange that the crime spree "illustrat[es] the need for a mutually positive relationship between the Department of Public Safety, students and the larger community."
He stated:
Each crime serves as a reminder of the significance of DPS and maintaining a positive, mutual relationship with its members, but there are always more avenues the department can take to reach out to students more effectively. The department already reaches out to students via email and provides guidance to students regarding how they can keep themselves safe, as seen with SU's Orange Alert and emergency phone systems. To bolster its relationship with students, DPS can also offer class presentations regarding the importance of off-campus safety and how to practice it, more local information on social media, and safety training for students, all which would give students more basic safety knowledge.
Draghi said the campus police can build more goodwill by expanding its area to include off-campus where students live. The city of Syracuse has asked campus police to help municipal law enforcement by responding to non-emergency calls.
"For students at SU, a lack of security can hamper their ability to have a safe college environment, something that is imperative to their college experience," Draghi wrote.
IMAGE: Syracuse University Department of Public Safety
Like The College Fix on Facebook / Follow us on Twitter