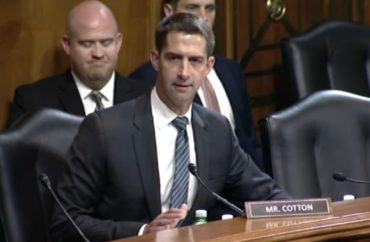 Senator Tom Cotton criticized President Joe Biden's recent bailout of student loan borrowers for failing to hold universities accountable.
The Arkansas Republican wants universities held accountable for their excesses and introduced legislation to that effect, according to a recent op-ed in Fox News.
"College endowments have now ballooned to over $800 billion in value—with Harvard and Yale sitting on over $70 billion of untaxed wealth," he wrote today. "Colleges use their massive fortunes not to serve their students but instead to pay for bloated bureaucracies. Between 1976 and 2018, total student enrollment increased by just 78%, while the number of college administrators ballooned 616%."
He called this growth the "Gilded Age" of academia – and he wants to see it end.
Cotton wrote:
The federal government's guarantee of virtually unlimited student loans is the primary cause of this academic Gilded Age. In return for issuing trillions of dollars' worth of loans and protecting these loans from bankruptcy, the government demands almost nothing in return from the colleges. This enables colleges to pocket extraordinary sums of money, churn out low quality degrees, and never worry about their graduates again, other than to harass them for alumni donations.
"The Student Loan Reform Act will fundamentally reform the college-student relationship and the way Washington issues federal student loans," he wrote. "It will ensure that institutions of higher education have skin in the game in their student's success and will gradually reduce the cost of tuition across the country."
The legislation requires universities to "become guarantors of up to 50% of future federal student loans and fines colleges 25% of the value of future defaulted loans."
His proposed bill also "pressures colleges to reduce the cost of tuition and to stop hoarding large amounts of endowment money" by requiring a reduction in administrative staff to qualify for student loans.
"This legislation also places a 20% luxury tax on undergraduate tuition above $40,000 and a 1% tax on the richest private college endowments," he wrote. "The revenue raised from these taxes will go toward workforce education to help the majority of Americans that don't have a college degree. Once again, these policies will give colleges and universities a financial incentive to stop funding useless bureaucrats and bring down their costs."
Like The College Fix on Facebook / Follow us on Twitter