In 1990, Barbara Bush gave the commencement speech at Wellesley College. Initially, many students at one of the nation's top colleges for women had protested her as speaker.
"After Bush was announced, some seniors complained. Bush may have been a Smithie, but she had dropped out at 19 to marry a patrician young Navy pilot named George H.W. Bush. Not quite the Wellesley way, 150 of them said in a petition protesting the choice," The Washington Post reports.
But in the end, she swept them off their feet, or as the Post put it: "The day Barbara Bush wowed Wellesley's feminist protesters with a graduation speech."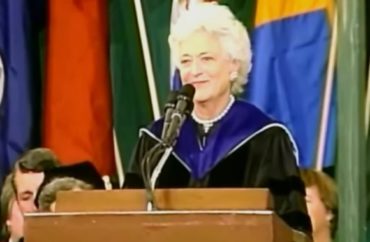 The 10-minute speech, which can be found on YouTube, includes when then-First Lady Bush explained why she left college for marriage.
"Early on, I made another choice, which I hope you will make as well. Whether you are talking about education, career or service, you are talking about life, and life really must have joy, it is supposed to be fun," Bush said. "One of the reasons I made the most important decision of my life to marry George Bush is because he made me laugh. It's true sometimes we laugh through our tears, but that shared laughter has been one of our strongest bonds."
"Find the joy in life, because as Ferris Bueller said on his day off, 'Life moves pretty fast; and if you don't stop and look around once in a while, you're going to miss it.'"
That portion of her speech drew lengthy applause and cheers, prompting her to joke: "I am not going to tell George you clapped more for Ferris than you clapped for George." The crowd laughed in good spirit.
"The third choice," Bush went on, "that must not be missed is to cherish your human connections, your relationships with family and friends. For several years you've had impressed upon you the importance to your career of dedication and hard work, and of course that's true. But as important as your obligations as a doctor, a lawyer, a business leader will be, you are a human being first and those human connections, with spouses, with children, with friends, are the most important investment you will ever make."
That line drew another round of boisterous applause.
"… At the end of your life, you will never regret not having passed one more test, winning one more verdict, or not closing one more deal. You will regret time not spent with a husband, a child, a friend or a parent," she said, then continued on to the next line of her speech.
Yet the audience interrupted her — with applause. She smiled at that at went on.
"… Whatever the era, whatever the times, one thing will never change: fathers and mothers, if you have children, they must come first. You must read to your children and you must hug your children and you must love your children. Your success as a family, our success as a society, depends not on what happens in the White House, but on what happens inside your house," Bush said, again drawing hearty applause.
Watch the full speech:
Like The College Fix on Facebook / Follow us on Twitter