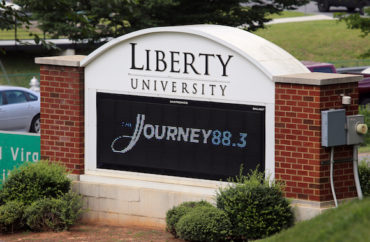 Liberty University is known as one of the preeminent Christian schools in the entire country. But recent revelations about its internal practices have shed light on some troubling developments at the institution, circumstances that have reportedly led to "a campus culture of fear," as one writer argues.
Liberty "offers a useful case study in how higher education institutions that pursue unique missions can also be susceptible to unique governance pitfalls," writes Christian Barnard at the James G. Martin Center for Academic Renewal.
The school was started by Jerry Falwell in the early 1970s, Barnard writes; Falwell said that "the goal was not to create another Bible college" but rather a venerable academic institution with "a distinctively Christian environment." Falwell succeeded in growing the scope and prestige of the university over the next several decades. After his death in 2007, his son, Jerry Falwell, Jr., took over, reportedly leading to a new and arguably degraded campus environment:
Critics argue that Falwell has created a culture of fear where people are unable to speak out. They point to examples such as how faculty outside of the law school cannot obtain tenure and the routine use of non-disclosure agreements that stop current and former staff and board members from discussing sensitive matters around Falwell's leadership.

Documented incidents of retaliatory firings when staff criticize university leadership make this fear a legitimate reality.

Students live under scrutiny and fear along with the staff. Other stories from students and alumni detail his micro-management of the campus newspaper—claiming that he reserves the right to edit or reject any columns of which he disapproves. The school newspaper isn't even student-run anymore. Other accounts note incidents like the university's past "derecognition" of Campus Democrats, Falwell's forced removal of an anti-Trump pastor, and when campus shut down a student booth where libertarian students tried to discuss legalizing marijuana.

Other highlights of malfeasance include making loans to friends contrary to the school's financial interests, signing massive construction contracts with personal associates, and investing in real estate that's owned by friends and family. The reports from Politico and Reutersalso question Liberty-sponsored political activity—like selling merchandise that features both the Liberty and Trump brand—as potential violations of IRS rules governing nonprofits.
"Since faculty have little job security and students are limited in their ability to voice their dissent, it's unlikely anyone on campus will stand up to Falwell. He simply isn't being held accountable by a governance model that placed too much power in the hands of one person," Barnard writes.
Like The College Fix on Facebook / Follow us on Twitter