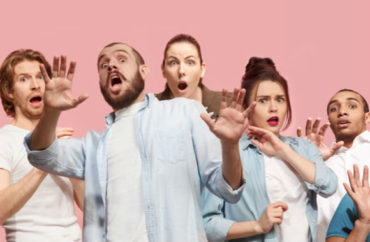 COVID-19 is a highly targeted illness, posing progressively larger threats by age. Weekly American deaths in the 0-24 age group, including those with preexisting conditions, reached a high point of 27 … four months ago.
Yet a new survey shows that college students have a groundless fear of the disease, best explained by "relentless propaganda" from elite American institutions, as termed by Catholic University of America Business Prof. Jay Richards.
Inside Higher Ed reports on the pending results from higher education research firm SimpsonScarborough, which found that three in four "incoming freshmen who aspired to attend a four-year residential college" are "very or somewhat worried" that they'll get infected with the novel coronavirus.
As a result, four in 10 say they are likely to not go to college at all this fall. The firm drew on responses from 927 freshmen and 905 returning students, with a margin of error of 3 percent (Inside Higher Ed doesn't further explain the methodology).
Only a third of returning students "feel safe living in the residence halls," and a quarter "strongly agree" that their colleges will keep them safe, the survey found. Only one in six wants to return to campus for in-person classes, with a plurality favoring hybrid classes (possibly most dangerous format) and a third favoring all-online classes from home.
More than a quarter of returning students "who have the option to return to their campus say they are not going back or haven't decided yet." For incoming students, hybrid and all-online preferences are flipped, with the latter drawing plurality support.
The biggest worries are from racial and ethnic minorities, with a third of undefined "students of color" "very worried" about getting infected. In contrast, only one in five white non-Hispanic students are very worried. The survey found a 12 percentage point gap between minority (28 percent) and non-Hispanic white students (16 percent) who are "not returning to campus for in-person instruction."
This is what relentless propaganda will do. Students don't know their real risks: "Three out of four freshmen are very or somewhat worried they will contract coronavirus. And only 34 percent of returning students feel safe living in the residence halls." https://t.co/KZ1HS3fsCW

— Jay W. Richards (@DrJayRichards) August 10, 2020
IMAGE: Master1305/Shutterstock
Like The College Fix on Facebook / Follow us on Twitter