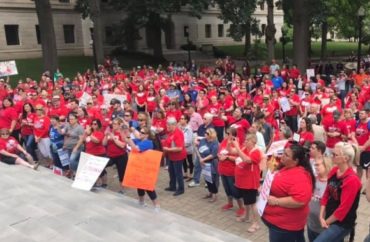 Congress is moving closer to passing a $1.9 trillion bill under the auspices of COVID relief. However, two education researchers recently found that union influence, not a lack of money for health initiatives, keeps public schools closed.
"Major teachers unions have claimed repeatedly that public schools need gobs of cash to reopen in person," Corey DeAngelis, the director of school choice for Reason Foundation, and Christos Makridis, a professor and researcher at Arizona State University and MIT, said.
"But our new analysis suggests funding isn't the reason teachers unions are keeping schools shut," the pair wrote in a March 9 opinion piece in The Wall Street Journal. "In fact, our prior work has found that union influence, rather than scientific concerns about the spread of the virus, is the primary driver behind reopening decisions."
"Many teachers unions, by contrast, have been fighting to stay at home. The difference is one of incentives," the opinion piece said. "Public schools get their funding regardless of whether they open their doors."
The new research from DeAngelis and Makridis found "no evidence to suggest that higher revenue or expenditures per student are associated with a higher probability of reopening schools for in-person learning."
They also pointed to a study that found that public schools near Catholic schools were more likely to open than those not near Catholic schools.
"Taxpayers fund schools rather than students," the pair said. "The only way to fix the system is to give families real options by funding students directly and letting them choose where to spend the education dollars."
IMAGE: West Virginia Education Association/Facebook
Like The College Fix on Facebook / Follow us on Twitter