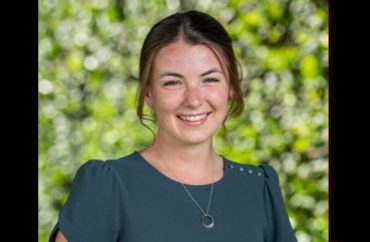 A postgraduate fellow at the University of Notre Dame wants to see universities promote family and marriage and focus on preparing students for a future life of raising kids.
Mary Frances Myler, the former editor-in-chief of the conservative Irish Rover student publication, made the argument recently in Public Discourse. She is currently a postgraduate fellow at Notre Dame's Center for Citizenship & Constitutional Government.
She wrote:
It is possible to build a pro-marriage, pro-family culture on the college campus, but certain secular sacred cows must be abandoned—namely, expressive individualism and the sexual revolution. Young people are hungry for truth, and it's high time our universities gave them some.
One problem, according to Myler (pictured), is a tendency in students to focus on "expressive individualism," or the idea that whatever they want to study must be right. "While education should certainly nourish a student's particular talents and passions, universities lack any coherent vision of what it means to be an educated person," she wrote. "Instead, they delegate educational choices to individual students and retain no power to judge those choices."
This view of the world contributes to other campus problems, such as "hookup culture," Myler wrote. She said that "denigrating human sexuality is the natural conclusion of expressive individualism."
She further wrote:
Any proposal to cultivate pro-marriage and pro-family campuses must be honest about the ways hookup culture has transformed college life. While marriage and family may not be top-of-mind for most young people, sex is. In order to promote the goods of marriage and family, the university must grapple with and address head-on the cultural narrative familiar to students.
Myler has concrete proposals for how universities can reorient in a positive direction, including single-sex residence halls and education on why it is a bad idea to hook up and why there are boundaries around visitors and co-ed dorms. She also suggested events with married alumni and that career centers on campus help female students consider flexible vocations that might better align with future goals to raise a family.
"Young women seeking career counseling need to hear from mothers who no longer work, or who work part-time," she wrote. "Conversations about future careers need to take place in the context of a holistic assessment of life: if a student hopes to be a primary caregiver for a future family, perhaps he or she should consider choosing a career that offers flexibility with options for part-time work."
MORE: Marriage makes women happier and healthier, Harvard scholars say
IMAGE: Mary Frances Myler/Twitter
Like The College Fix on Facebook / Follow us on Twitter