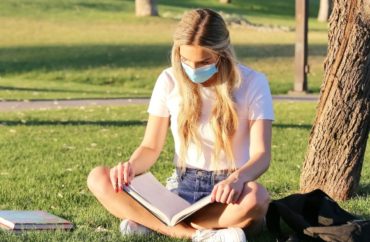 Princeton student and College Fix reporter Matthew Wilson said his university's mask mandate, which even applies to vaccinated students, is antithetical to common-sense.
"Flagrantly defying data and logic, this mandate will force students and faculty to revert to the hindering and unpleasant restrictions associated with the pre-vaccine pandemic," Wilson said in an essay for The Daily Princetonian.
Wilson has received vaccination against COVID-19 and his university predicted at an August 9 townhall that 99 percent of his peers would be vaccinated by the time classes start.
It's why he questions why his university has required masking on campus.
Wilson said:
Given what we know about the phenomenal efficacy of the vaccine, why, then, has the University chosen to reimpose a universal indoor mask mandate? Quietly announcing the new mask requirement less than two days after calling mandatory masking a "possibility" that "remains to be seen," the University provided no scientific or data-driven explanation for its abrupt policy reversal ― because there isn't one.
"According to recent data from the Centers for Disease Control and Prevention, less than 0.001 percent of vaccinated individuals have died of COVID-19, and fewer than 0.004 percent have been hospitalized as a result of an infection," Wilson said. "We know that these vaccines are strongly effective in preventing infection from coronavirus."
He also noted a high rate of vaccination in the town of Princeton, too.
"Among the University community, there have been no undergraduate COVID-19 infections this entire summer, and the campus' overall test positivity rate has hovered at or below 0.1 percent," Wilson said.
"Therefore, the University's decision to require everyone, including fully vaccinated individuals, to wear masks indoors in all on-campus buildings, forces members of its community to make painful sacrifices while accomplishing nothing substantial," Wilson wrote.
IMAGE: Mark Breck/Shutterstock.com
Like The College Fix on Facebook / Follow us on Twitter