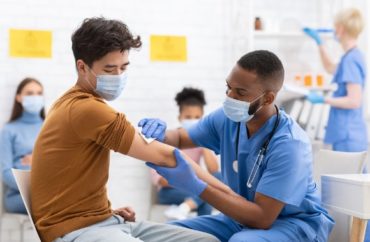 An associate professor of medicine at the University of California San Francisco wrote recently that vaccine passports are a "bad idea" and "unrealistic."
Oncologist and hematologist Vinay Prasad has frequently written about the need for nuance when discussing COVID policies. One area he urges caution with is vaccine passports — requiring people to show proof of vaccination to not only travel, but enter movie theatres, sports arenas or other public places of business.
"[M]y analysis is that they are, on balance…a bad idea, and we should work to promote vaccination without this tool," Prasad said in a recent essay for MedPage Today. "Vaccination is good; vaccine passports for domestic activities are unrealistic and possibly unhelpful. That's the sort of nuance we need more of in this pandemic."
He said that the idea has some benefits but could create moral hazards.
Prasad said:
When it comes to daily domestic activities, a vaccine passport results in a trade-off. It very modestly changes the risk to vaccinated individuals and those who do not have a vaccine option. It changes the places unvaccinated individuals can congregate, which may or may not curb or fuel viral spread, depending on what they do instead. It will be met with political opposition and may result in unanticipated, unpredictable, harmful outcomes, including perpetuating discrimination. It will, at times, surely malfunction and some people will be angered by that. It will require massive political capital to institute.
Prasad theorized that passports could drive unvaccinated individuals to congregate together in private places, which may not be as safe as larger, public places such as movie theatres.
IMAGE: Prostock Studio/Shutterstock
Like The College Fix on Facebook / Follow us on Twitter