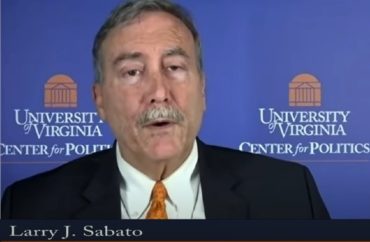 Tyler Arnold | The Center Square
The Republican Party of Virginia is requesting the University of Virginia perform an ethics investigation into the university's Center for Politics, alleging its director has shown strong partisanship toward Democrats in his taxpayer-funded role.
The Center for Politics was created by Dr. Larry Sabato, a political scientist and analyst, for the purpose of inspiring people to engage with politics and instill the values of freedom, justice, equality, civility and service, according to its website. Sabato is the current director of the center and labels it as nonpartisan.
Rich Anderson, the chairman of the Republican Party of Virginia sent a letter to UVA President James Ryan requesting the university investigate statements by Sabato for potentially violating the university's Code of Ethics. In the letter, Anderson said certain Tweets show "bitter partisanship," which "a reasonable taxpaying citizen can readily conclude."
In some of the Tweets cited by Anderson, Sabato criticized former President Donald Trump for "govern[ing] on the edge of insanity," suggested presidential debates be canceled because "it is impossible to have an orderly, productive exchange with Donald Trump," and suggested it would be more fitting for Trump to play "Highway to Hell" at the end of his rallies. He also criticized the former president for refusing to release his tax returns and at one point said "extreme tax fraud deserves a firing squad."
Anderson said the Tweets violate the university's mission statement, which promotes a "learning environment marked by the free and collegial exchange of ideas," and "unwavering support of a collaborative, diverse community bound together" and the center's mission statement, which states, "Everything we do must fulfill our goal of instilling citizens with an appreciation for the core values of American freedom, justice, equality, civility, and service." He also alleges Sabato violated the ethics code, which states faculty and staff must promote an inclusive and welcome environment, collaborate with others positively and respectfully and community with integrity at all times.
"In order to have faith in our institutions, it is essential that Virginians hold accountable those public employees and officials who violate institutional values, codes of conduct, and other guidelines of professional behavior," Anderson said. He asked the university to "make a determination as to whether Dr. Sabato's public display of bitter partisanship violates applicable laws, regulations, and policies."
In response, Sabato suggested Republicans are being hypocritical about cancel culture and made other comments criticizing the Virginia Republican Party.
"Thanks to the Republicans for the hearty laugh you've given me…," Sabato Tweeted. "There goes my reserved seat at your next #insurrection. Oh well."
Sabato receives a $450,000 salary to run the organization, which is partially funded by taxpayers.
Originally published July 9, 2021, by Center Square.
Like The College Fix on Facebook / Follow us on Twitter