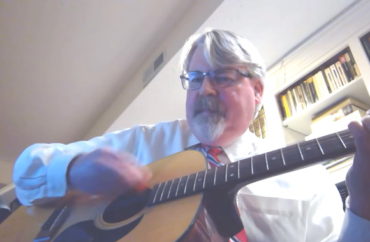 Last week, a professor from Missouri University of Science and Technology posted on YouTube a song parody which laments the sudden coronavirus-induced switch to online teaching.
According to Inside Higher Ed, history prof Mark Bruening said he and his colleagues initially were told to be ready for remote teaching by last Wednesday; however, that soon was moved up to Monday.
"So we literally did have just two days to adjust, as stated in the song," Bruening said. "I have to say the communication from our administration and especially the support provided to faculty by our educational technology support teams has been outstanding."
Bruening added he "just wanted to bring a little levity" to what is a very stressful time for all. His version of Gloria Gaynor's 1978 hit "I Will Survive" currently has over 1,620,000 views.
The new lyrics:
At first I was afraid, I was petrified
Kept thinking I could never teach through Canvas all the time,
But then I spent so many nights reading the help docs for so long
And I grew strong
And I learned how to get along

And so I'm back
The students are gone
As all my colleagues try to figure out how they're gonna get along
I should have kept up with the tech, not skipped that class on course design
If I'd have known for just one second I'd be teaching all-online
Go on now, go, leave me alone
I've got to figure out
Just how to lecture using Panopto
You gave me two days to adjust, to move everything online
Did you think I'd crumble
Did you think I'd lay down and die?
Oh no, not I, I will survive
Oh, as long as I know how to Zoom, I know I'll be alive
Oh, my students still will learn
And my paychecks I will earn, and I'll survive
I will survive, hey, hey
See the complete song at IHE. 
IMAGE: YouTube
Like The College Fix on Facebook / Follow us on Twitter