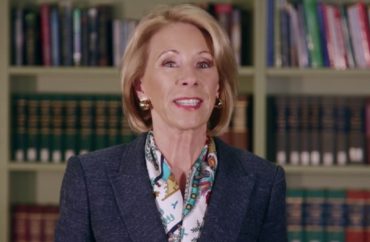 Meg Mott was an activist for the Violence Against Women Act when then-Sen. Joe Biden pushed through the sweeping legislation in the 1990s.
Then she saw what it meant in effect: "the role of prosecutors was greatly expanded at the expense of women's autonomy. … Once the machinery was put in action, there was no turning back."
The retired Emerson College professor of politics sees the same thinking and dynamic in the Obama administration's unofficial overhaul of campus sexual misconduct proceedings, which the Trump administration rescinded three years ago.
Despite her concerns about this administration in general, Mott is now a strong backer of the Title IX regulation shepherded through by Education Secretary Betsy DeVos*, and she explains why in an Inside Higher Ed essay.
The Department of Education's Office for Civil Rights "has struck an important balance between the rights of those accused of sexual assault and harassment and the needs of the accuser" through its rulemaking," Mott says:
Unlike the earlier Obama-era rules, which demanded a "trauma-informed" process, the new rules follow the Bill of Rights. Instead of reducing accusers to psychologically damaged beings, the new rules require them to provide evidence for their accusations. Instead of assuming the accused is a sexual predator, it grants them the ability to mount a strong defense. By putting the burden on the institution to create a fair and adversarial system, both parties learn how to address harms in a constitutional democracy.
She assails former education secretaries and even the ACLU for protesting "the restoration of basic liberties" under the DeVos rules, reminding them why "the deck is stacked against the prosecution for a reason" in the Anglo-American tradition:
The Obama-era Title IX rules followed a different calculus: better for 10 innocent persons to suffer than for one survivor to experience more harm. This perversion of the Blackstone ratio was not just demanded by advocacy groups — it became the mind-set of the Department of Education and the Democratic party.
It's also depressingly common among college students when the question is alleged sexual assault, she fears. But Mott is hopeful the next generation of students will not confuse "therapeutic interests with citizen interests" under the framework legally enshrined by DeVos:
Those who have suffered from the actions of another will have a chance to describe how those actions affected their well-being and interfered with their education. Those who are accused will be afforded the chance to mount a strong defense. Everyone involved will need to use their thinking muscles and inner moral compasses to determine a just outcome.
IMAGE: U.S. Department of Education/YouTube
Like The College Fix on Facebook / Follow us on Twitter