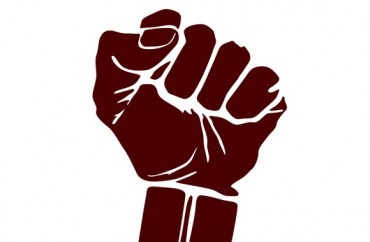 Yesterday, the Orange County (California) Register felt compelled to seek out a few university "experts" from colleges around the area to remind us all that the violence we witnessed this past week "point[s] to larger issues" around the country.
Cal State Fullerton's Jarret Lovell's focus is on Black Lives Matter — he emphasizes there's no evidence that the suspect in the Dallas shooting of twelve police officers, Micah Johnson, was associated with the BLM movement.
"I do not believe it's fair to hold BLM accountable for the actions of a lone gunman who doesn't even represent the movement, wasn't acting on behalf of the movement and wasn't advancing the mission of the movement," he says.
UC-Irvine's Davin Phoenix adds that he would be "hard-pressed to draw a line of correlation between the rhetoric of BLM and the depraved actions of the individual or individuals behind the senseless loss of life in Dallas."
Phoenix contends that BLM "has never encouraged violence."
Never? Perhaps the professor has forgotten about "pigs in a blanket, fry 'em like bacon." Not to mention, readers of The College Fix are familiar with a rather infamous incident at Dartmouth University where BLM activists rampaged through a library — justifying it "in the name of fighting oppression."
Addressing the shootings earlier in the week of Alton Sterling and Philando Castile in Louisiana and Minnesota, Lovell said the question of whether to hold a law enforcement agency accountable for the actions of an individual officer is "a lot more difficult."

"Especially when these officers are wearing a uniform that represents the entire force and when they receive training from the agency," he said.

An officer can err of his own volition, but what if those errors were the result of policies that systematically place officers in conflict with minority communities?

To address this concern, Lovell believes law enforcement agencies need to move away from zero-tolerance policies and practices that tend to stereotype communities.

Elliott Currie, professor of criminology, law and society at UC Irvine, fears Thursday's attack in Dallas will fuel the cyclical sort of violence that wreaks havoc on law enforcement agencies and minority communities alike.

MORE: BLM protest terrorizes Dartmouth; students pushed, shoved, cussed out

"If I were a police officer, it would be hard not to feel an increased sense of threat after an incident like this," Currie said. "And that sense of being threatened and vulnerable is part of why we see so many incidents of police killings of civilians in the first place."

While the sniper attack that killed five officers was "shocking and saddening," Currie said it was "not entirely unexpected," considering the discrimination minority communities have historically suffered at the hands of law enforcement.

"Given the extreme divisions in America that have been caused in part by the last few years of police killings of black Americans, it is — scarily — not altogether surprising that someone would take this extreme and devastating course of action in response," he said. "The hard fact is that we've been steadily creating the conditions that make this kind of extreme violence possible for a very long time."
Currie, like his UC-Irvine colleague, claims Black Lives Matter is "a peaceful movement, one that has consistently disavowed violence."
Professor Phoenix also asserts that "[i]t seems apparent that many police officers — like many people in the U.S. broadly —presume that the black individuals they encounter are inherently violent and threatening."
Certainly, Cal State Fullerton's Lovell makes a legitimate point in that BLM cannot be held accountable for the actions of one lunatic. But it's amusing how this never seems to be the case when a deranged right-winger decides to shoot people; then, talk radio, Fox News, and the rhetoric of Republicans in Congress are in some way complicit.
And don't forget about those "rambunctious" Tea Party protesters in the early days of the Obama presidency!
MORE: BLM activists will steal newspapers until they get their way at Wesleyan
MORE: Unruly #BLM protests at UW-Madison engulf campus in controversy
Like The College Fix on Facebook / Follow us on Twitter
IMAGE: Shutterstock