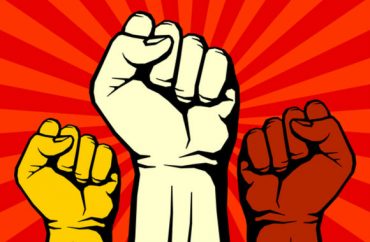 The California Faculty Association, a union for faculty in the California State University system, is calling for free tuition for black and indigenous students, a mandatory ethnic studies course, and for the defunding and removal of armed campus police, among other demands.
They are laid out in an eight-page document titled "California Faculty Association statement of anti-racism and social justice demands in the wake of anti-black racism, violence, and murder."
The association has said that it is not enough to only condemn the death of George Floyd at the hands of white police. "It's time to transform higher education to a more inclusive, social justice minded system," according to the association.
"The US is a racialized society based on white supremacy where opportunities, resources, power and human rights are structured by race to privilege whiteness, one where race structures disadvantages such as poverty, barriers to opportunity and power, and failure to recognize humanity, resulting in a racial hierarchy," stated association Vice President Sharon Elise in a news release announcing the demands.
There are nearly 500,000 students enrolled in the California State University system's 23 campuses. The CFA states it "represents more than 29,000 tenure-line instructional faculty, lecturers, librarians, counselors and coaches."
One of the main demands is that all black and indigenous students be provided with free tuition because of "the decades-long trend of declining enrollments amongst Black, Native, and Indigenous students in the CSU and other higher education institutions."
Along with this, they urge campuses to make plans for increasing the acceptance rate of black and minority applicants.
The association also wants to enact Assembly Constitutional Amendment 5, which would bring forth a return of affirmative action policies in higher education in California by giving preferential treatment to minorities. Passed by California lawmakers, ACA 5 will be on the November ballot as voters make the final call.
Another demand is to defund and remove armed police from all CSU campuses. The faculty argue that removing police is acceptable since there are low violent crime rates on college campuses.
"Policing in the U.S. has always had a racial target in Black people and the dehumanization of Black people," and it instills fear in black students, according to the statement, adding police should be replaced with "community accountability and transformative justice" programs.
The faculty association is also calling for: more access to counseling and mental health services; requiring all students to take an ethnic studies class; the creation of black/African studies departments and student centers; and equal pay and representation for black faculty.
A California State University system spokesperson told The College Fix via email there is support among administration for the demands.
"The California State University takes great pride in educating the most ethnically, economically and academically diverse student population in the nation. The CSU is committed to working to address racial inequities as well as providing students with opportunities to explore social justice," said Toni Molle.
She also noted the system supports ACA 5 and that university police departments are committed to community policing and pledged to implement recommendations from President Obama's Task Force on 21st Century Policing.
"Later this month, Chancellor's Office staff will present to the Board of Trustees a Title 5 amendment to add an ethnic studies and social justice requirement to the university's general education," she added. "These actions support a long-standing university-wide commitment to provide an equitable, affordable, and high-quality learning environment for all CSU students."
But the demands have some detractors.
John Ellis, chairman of the center-right California Association of Scholars, told The College Fix that "it certainly seems unwise to advocate illegal racial discrimination of any kind, and to advocate defunding police."
Ellis referred to a column by Jason Riley of The Wall Street Journal, which discusses how removing and defunding police can be problematic and increase the amount of crime and killings.
It cites a study done by Harvard economist Robert Fryer, who surveyed two dozen police departments both state and federal. These investigations showed that when police departments went under investigation after a police-involved death, police activity went down. A direct result of this was an increase in violent crimes.
MORE: Princeton faculty accuse school of rampant 'anti-blackness,' issue 48 demands
IMAGE: Micro One / Shutterstock
Like The College Fix on Facebook / Follow us on Twitter