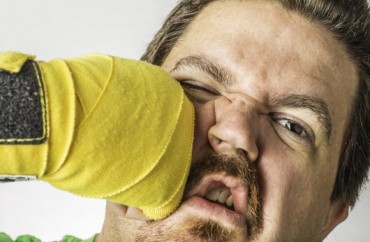 A high school teacher in California was manhandled and punched during a post-election protest on Thursday.
Staff at College Park High School in Pleasant Hill were alerted to news that students from nearby schools were going around "recruiting" their peers from other schools to join in an anti-Donald Trump protest.
According to KTVU-2, two College Park teachers were attempting to block passage to students shortly after the principal had called for a school-wide lockdown. That's when the scuffle broke out.
"That teacher and the other teacher that got punched were trying to block the hall but it didn't work out," said student Armon Aziz.
In another video we obtained, showing the moments before the students entered College Park High, you can hear school officials on the loud speaker warning the oncoming protesters to be peaceful.

"We provide students the opportunity to express themselves but I do not condone at any time when you impede educational progress at any campus," said Principal [Joseph] Alvarez.

The principal says he left the gates to the school open because he heard students were jumping the gates at other schools and he didn't want anyone getting hurt.

MORE: California HS student beaten up by classmate for supporting Donald Trump 

"Everybody was kind of trampling each other so everybody went at each other," said one student.

School officials say they went into lockdown mode, shutting the doors to the classrooms and that's when the fight broke out.

"Hopefully we're able to identify the student in that video," said Principal Alvarez.
EAGNews.org reports that the victim is a "Dr. Thomas" whom KGO-7 notes is a "teacher that is beloved."
h/t to EAGNews.org
MORE: HS students accused of racism at basketball game due to chants of 'Trump!'
MORE: Principal cribs his Trump response message from 'Huffington Post'
Like The College Fix on Facebook / Follow us on Twitter
IMAGE: Shutterstock