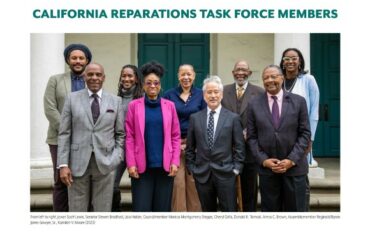 UPDATED
Proposed project would cost more than $500 billion 
The California Reparations Task Force, composed of academics, policymakers and activists, submitted a nearly 1,100-page report to the state legislature laying out harms committed against black people and recommending compensation.
"The African American story in the United States is marked by repeated failed promises to right the wrongs of the past—both distant and recent—and failure to acknowledge and take responsibility for the structural racism that perpetuated these harms," according to the report.
The report "seeks to change this story with incontrovertible evidence of the harms requiring reparations and meaningful recommendations designed to redress them."
"A full and effective reparations program must include all of the following," it continued. "(1) Restitution; (2) Compensation; (3) Rehabilitation; (4) Satisfaction; and (5) Guarantees of non-repetition."
After laying out a list of "harms" and "atrocities" committed against black descendants of slaves, the report stated, "this loss must be compensated with monetary payments to those who suffered the loss."
"That monetary payment should be restricted to African American descendants of a chattel enslaved person, or descendants of a free Black person living in the United States prior to the end of the 19th Century," according to the task force.
"Apologies alone are inadequate reparations to victims," according to the report. "But when combined with material forms of reparations, apologies provide an opportunity for communal reckoning with the past and repair for moral, physical, and dignitary harms."
The California Reparations Report intends "to serve as a blueprint for other states and, eventually, the federal government," according to the document.
The College Fix reached out twice by email to task force members Professor Cheryl Grills of Loyola Marymount University and Professor Jovan Scott Lewis of UC Berkeley, twice to an expert consultant for the report Professor Eric Miller of Loyola Law School and twice to Professor Clyde Greer Jr. of The Master's University. None provided comment.
National Public Radio published an interview with some members of the task force in late July.
"The Reparations Task Force has recommended cash payments, in some cases hundreds of thousands of dollars or more, for any Californian who can show they are the direct descendant of a Black enslaved person or a free Black person alive before the 20th century," according to NPR.
"The report also recommends tax breaks, free tuition, help with health care and other programs designed to help African Americans overcome the systemic racism that is slavery's legacy," NPR continued.
Public policy Professor Thomas Craemer of the University of Connecticut, an expert consultant for the report, endorsed its recommendations to The College Fix in an email.
"I…think of California's Reparations Task Force as a great pioneering effort paving the way for federal reparations," Craemer said.
In Craemer's opinion, federal reparations should happen because they are "the right thing to do."
"Some may ask, how can we repay a debt to people who have long passed away?" Craemer said to The Fix. "The answer is simple: Pay their rightful heirs."
According to Craemer, these heirs are those "who have lost out on the intergenerational wealth transfer that any other American family is experiencing."
"Reparations, if thoughtfully done, can lead to reconciliation between the successors or descendants of former perpetrators and victims of historical injustices," according to Craemer.
However, another professor, from a California university, denied that reparations are just or possible.
"This is not going to happen," the professor, who wished to remain anonymous for fear of retaliation, said in an email to The Fix. "This is all a colossal virtue signaling effort."
The professor said slavery reparations are "much easier than doing anything to actually help [black people] – such as school choice or discontinuing laws that disincentivize black fathers from being active in the lives of children…or cracking down on black-on-black violence in major cities."
Slavery reparations cause "damage to rational thought," the scholar said.
The professor named several "rational arguments" that are "viewed as irrelevant" to those who are for reparations; for example, no one living today owned slaves, and no living people have been held as slaves. Even more, California was not a slave state, and it did not participate in slavery.
In addition,  "no one can name any position or job in America that blacks cannot hold," the professor told The Fix.
Black slaves' descendants today "have enjoyed the common benefits of American prosperity and the highest standard of living in world history," the professor said.
The College Fix reported in February on the task force's inclusion of several professors who work on race issues.
Professor Cheryl Grills teaches clinical psychology at Loyola Marymount University and believes there should be an "African-centered psychology."
"African people should, in fact, not be thought of as modified Western human functioning," Professor Grills wrote in one paper about the strategies used by the Association of Black Psychologists. She argued instead black researchers need "to 'develop our own,' African-centered psychology…that build[s] upon the history and culture of African people."
University of California Berkeley Professor Jovan Lewis wants to see the state lead the way on reparations, he said.
"We are looking at reparations on a scale that is the largest since Reconstruction," Professor Lewis told The New York Times last December. The paper reported a $569 billion starting point for the cost.
MORE: UMinn accused of 'genocide,' should pay Native American reparations: report
IMAGE: The California Reparations Report
Like The College Fix on Facebook / Follow us on Twitter