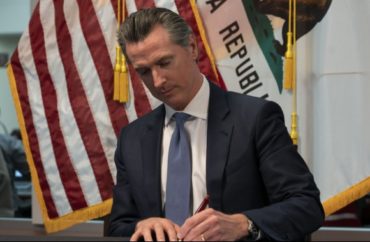 Recipient research leads to it receiving taxpayer dollars
California Governor Gavin Newsom signed a budget bill that includes $1.4 million of funding for several university-linked groups to stop hate incidents and crimes against Asians.
Assemblyman Phil Ting played a role in ensuring that the money would flow to several universities and organizations as part of Assembly Bill 85.
"The rise in hate incidents against Asian Americans during the pandemic is alarming," Ting said in a news release. "But, we can't solve a problem without knowing how big it is. New state funding allows the data gathering."
The money will go to a group called Stop AAPI Hate, which is often cited by news reports for its data on hateful incidents against Asian-Americans and Pacific Islanders. San Francisco State University's Asian American Studies department is a founding member of the organization, along with Chinese for Affirmative Action and the Asian Pacific Planning and Policy Council.
The College Fix reached out to Russell Jeung, an SFSU professor involved with Stop AAPI Hate, via email for comment but did not receive a response in the past week.
The College Fix asked Jeung for the numbers on hate crimes for 2019 and 2020 as well as statistics on how many hate incidents are reported to local or federal law enforcement.
Some of the money will also go to UCLA's Asian American Studies Center, according to a university news release. The Fix asked the center via its general press contact email similar questions about criminal statistics, but did not receive a response in the past week.
Ting said there is underreporting due to distrust, ignorance of police reporting
Ting also said that many Asian Americans do not know how to report crime to the police.
"I think that's only about one-tenth, or even fewer, of the actual hate crimes that are occurring, because most people don't even know the [AAPI] website exists or don't even know how to properly report a hate crime," Ting said, according to ABC News.
The Fix reached out to Ting for comment on the intelligence and criminal statistics he used to determine there was a rise in anti-Asian hate crimes. The Fix asked if local or state police reports show an increase in hate crimes. The Fix also asked if Ting believes that most people don't know how to report a hate crime to their local/state police, either.
"Ting's comments are based on a self-reporting website [the AAPI website], which launched a year ago," a staffer for Ting said in an email to The College Fix. The staffer requested background, but the staffer did not give any reason for the request, despite being asked several times.
The staffer said that people are often reluctant to go to the police in communities of color due to a distrust of the police/authorities.
Stop AAPI Hate exists so that people can anonymously report anti-Asian incidents without going to the police. The staffer placed an emphasis on how a differentiation is needed between crimes versus incidents.
While name calling isn't a crime, people should still be considerate to how Asian-Americans are being treated during a pandemic, the staffer told The College Fix.
Cites research that found New York City drove most of the increase
Ting made similar comments to The College Fix via an emailed statement sent through the same staffer.
"According to the Center for the Study of Hate and Extremism at California State University,
San Bernardino, hate crimes against Asian Americans increased 149% in 2020," Ting said. "The first spike occurred in the early days of the pandemic."
The report shared by Ting shows that hate crimes decreased in major cities in 2020 compared to 2019.
New York City drove the majority of the increase in hate crimes against Asian-Americans, as it went from three hate crimes in 2019 to 28 in 2020. Many cities experience a minimal increase — Houston and Denver went from zero in 2019 to three in 2020, for example.
Ting said:
All the data paints a very alarming trend: Asian Americans are being wrongly blamed for COVID-19 and people are taking out their frustrations on them. What's more concerning are the beatings and attacks on elderly Asians in recent weeks, sometimes leading to their death.
"We cannot solely rely on police reports for an accurate picture of hate incidents and
crimes against Asian Americans," Ting said in his statement to The Fix. "Like in many communities of color, some victims distrust law enforcement and won't call them. Others may be undocumented and fear going to the police because ICE may be called in."
Most incidents of 'hate' are harassment, shunning, social media comments
The staffer also provided The Fix with a copy of the latest AAPI report on incidents for the past several months through the end of February.
Verbal harassment represented 68.1 percent of the reported incidents and shunning represented 20.5 percent. Social media harassment made up 6.8 percent.
Apart from those statistics, physical assault accounted for 11.1 percent and civil rights violations comprised 8.5 percent.
The difference between harassment and shunning versus violent crimes is important according to a senior editor at Reason who wrote a book about hate crimes.
"I think it's probable that negative COVID stereotypes are responsible for at least some increase in anti-Asian animus," Robby Soave, who is also a former Fix editor, said via email. "[B]ut keep in mind that the mere fact that we are paying a lot more attention to this category of intolerance could make it look like it's getting worse, when really our reporting is just improving."
Soave's book, "Panic Attack: Young Radicals in the Age of Trump" reported skeptically on hate crime claims.
"People were probably more likely to report anti-Asian harassment to watchdog groups in 2020 than they were in 2019, which could artificially inflate the numbers," Soave told The Fix.
"Keep in mind that not every hateful incident involving a racial minority is necessarily a crime: Street harassment, for instance, is bad, but it is not illegal unless there's also violence, property defacement, or something of that nature," Soave said.
"People who engage in assault, robbery, property destruction, etc., should be arrested, tried, and convicted, regardless of whether the motive was hateful or not," the Reason editor said.
The First Amendment protects speech, including "hate speech," and such speech does not become a crime until someone actually commits criminal behavior he said.
MORE: Southern Poverty Law Center omits 2000 anti-white hate crimes from report
Kimmy Yam, a reporter for NBC, has made a similar point.
"As the recent wave of attacks on older Asian Americans prompts calls for action and activism, experts urge the use of precise, accurate language in discussing the violence," Yam wrote on February 25.
Yam pointed to the tendency of news outlets to cite the AAPI website as the source for claiming a rise in violence against Asian-Americans.
Yam said:
Some outlets have also reported almost 3,000 "hate crimes" during the pandemic. The reporting forum Stop AAPI Hate collected almost 2,800 reports of hate incidents nationwide over five months last year. But the incidents weren't necessarily hate crimes; they included less severe, yet insidious, forms of discrimination, including shunning, verbal harassment and name-calling. Stop AAPI Hate said 69 occurrences included racist language, in addition to a physical incident.
The Fix reached out to Yam via email for further comment on hate crimes but did not receive a response in the past week.
MORE: University sees massive drop in alleged hate crimes after security cameras installed
IMAGE: Governor of California office/Gov.ca.gov
Like The College Fix on Facebook / Follow us on Twitter