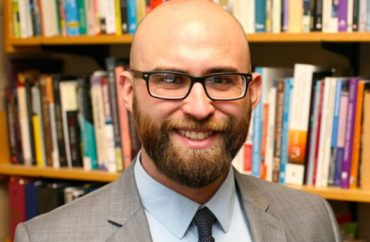 Professor says his private actions were separate from his university role
A former professor who officiated a same-sex wedding ceremony filed a lawsuit against Calvin University, arguing that his civil rights have been violated.
The pending lawsuit comes nearly a year after Calvin University terminated Professor Joseph Kuilema.
The university said it believes it will win in court.
Spokesman Matthew Kucinski sent The College Fix a news release which stated:
While there is room for personal disagreement with [Christian Reformed Church] doctrine, the university has clear expectations for employees regarding teaching, scholarship, and personal conduct, and follows established processes to review alleged violations of those expectations and to determine appropriate responses. We are confident those processes were followed in this case and plan to defend this lawsuit in court. At this time, the university has no further comment on active litigation.
Kuilema (pictured) told The Fix via email that at the time he officiated at the ceremony in October 2021, the Christian Reformed Church had not definitively reached a conclusion on whether its members could believe that same-sex unions were equivalent to marriage.
He now teaches at Grand Valley State University. "His research interest areas include global social work, social work history, racism and white supremacy, and the intersections between faith and LGBTQ rights in society and social work education," according to his faculty bio.
He also said that the faculty handbook as of summer 2021 "had no definition of marriage, and no guidance about conducting civil ceremonies as a private citizen."
Kuilema told Fox 17 he decided to officiate at the ceremony for his former students because he wanted to be able to tell his kids what he had done "at this point in history."
"This was an LGBTQ couple, who reached out to someone they loved and respected and said 'Hey would you be the one to officiate for us?' And I thought about that. I consulted with people," he told Fox 17. "I thought about what I would eventually say to my own children about what I had done at this point in history. And there was no way that I was going to say no to them."
"It was a non-religious wedding. I did it on my own time," he told the news outlet. "It had nothing to do with Calvin. It had nothing to do with Christianity."
However, a Christian Reformed pastor said the church has long admonished homosexuality.
C.J. den Dulk, a pastor in Sparta, Michigan and a Calvin University alumnus, said that the Christian Reformed Church has always held marriage as a confessional status, meaning that all members of the church must believe in it as a doctrine.
"Unchastity includes same sex relationships, pornography, unbiblical divorce, and other sexually immoral behavior," the minister said. "That…has always been confessional and office bearers are required to sign their agreement with the confessions in the Covenant for Officebearers in the CRC."
"It is not as if the CRC elevated same sex marriage to confessional status, but brought clarity that 'unchastity' which God forbids and we are to thoroughly to detest, in marriage and in single life, includes same sex marriages," den Dulk told The Fix via email. "We are to live decent and chaste lives."
The Christian Reformed Church's website states that "Homosexualism (that is, explicit homosexual practice), however, is incompatible with obedience to the will of God as revealed in Scripture."
"The church affirms that it must exercise the same compassion for same-sex oriented persons in their sins as it exercises for all other sinners," the statement continues. "The church should do everything in its power to help persons with same-sex orientation and give them support toward healing and wholeness."
MORE: 'Transgender children' course offered by Catholic med school
IMAGE: Grand Valley State University
Like The College Fix on Facebook / Follow us on Twitter