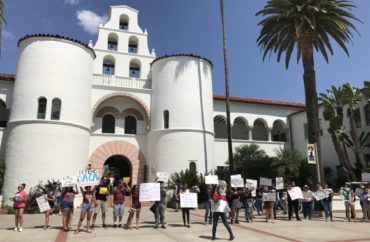 A pro-DACA protest at San Diego State University on Thursday drew roughly 35 demonstrators on a campus of some 25,000 undergrads that's located just miles from the U.S-Mexico border.
In fact, at times it seemed more people stood observing the spectacle than actually taking part.
As it went on, more people showed up to watch the afternoon protest, but the event did not last for very long, as it appeared not many wanted to speak. The megaphone would often sit on the ground for some moments untouched before another protester would pick it up.
Still, the protesters who did show up managed to give it a go to rally for the cause.
At times they'd chant things such as "Power to the people! No one is illegal!" They held signs declaring: "Dreams without borders!" "SAVE DACA, SAVE LIVES" and "Immigrants Make America Great."
The protest was aimed at President Donald Trump's decision to end the Deferred Action for Childhood Arrivals, known as DACA.
"I'm just out here trying to support my community, a lot of my family is undocumented and I know a lot of dreamers…I felt obligated to come out and support," said student protester Erik Sanchez in an interview with The College Fix.
The large campus is located 25 miles from Tijuana and the U.S.-Mexico border.
Another student protester, Ariana Padilla, told The College Fix she was there to show her support for anyone who is affected by the discontinuation of the Obama-era program.
"We are standing in solidarity with those students who are in DACA and those who support DACA, to let them know that they are not alone and they have somebody who supports them," she said.
Other speakers over the microphone during the protest said they have been calling congresspeople and that they "will not let Donald Trump take away DACA." Other said sending students back to Mexico is unfair because of how young they were when their parents brought them to the United States.
Students were not the only ones protesting, faculty such as professors and counselors were around the event, some even holding signs in unison with the students.
In an interview with The College Fix, Professor Josh Jones noted his extreme disapproval of DACA ending and the possible deportation of students within the program.
"Getting rid of DACA was just so unneedful and it's cruel," he said.
And SDSU Counselor of Psychological Services Dr. Martin Doucett also weighed in.
"I think it's important that students are out here, this is a horrible thing that the Trump administration is doing, and I think it's important that students' voices are heard," he said.
IMAGE: The College Fix
Like The College Fix on Facebook / Follow us on Twitter