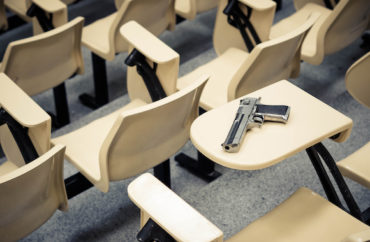 It was always silly to claim otherwise
Several years ago a few professor at the University of Texas at Austin sued the university for its campus carry rule. The professors claimed that allowing students to carry guns on campus would somehow chill their academic freedom; the gist of the argument was that the potential presence of a gun in the classroom would compel the professors to avoid controversial topics for fear that angry students might decide to start shooting.
Those professors lost that argument, repeatedly—and deservedly so. A few years hence and they're unwilling to comment on the campus climate they said would be so adversely impacted by the presence of firearms. That's because the argument was always bunk. The idea that gun-carrying students might be inspired to massacre their fellow students over simple classroom disagreements was never something to take seriously. Even the most heated academic debate is incapable of inspiring that kind of rage.
As the NRA notes, it is "puzzling that [the professors] have refused to comment on the actual fallout of the 2015 law." It's actually rather understandable. The campus climate at the University of Texas is almost certainly doing just fine. Academic freedom is as free as it was before the law was passed. Students aren't killing each other over heated discussions about Ovid or the Missouri Compromise. Life goes on. Anti-gun partisans have always insisted that expanded gun rights will lead to more violence and more killings, and time and time again they've been proven wrong. It's a shame they're unwilling to admit it.
MORE: Dartmouth professor says 'magic' of guns can turn good people evil
IMAGE: wk1003mike / Shutterstock.com
Like The College Fix on Facebook / Follow us on Twitter