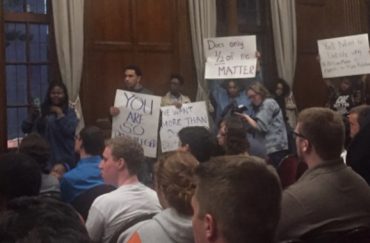 University of Michigan forum 'devalues the #BlackLivesMatter movement,' students say
A routine debate on Tuesday hosted by a University of Michigan debate club was effectively shut down after a throng of protesters stormed the event and repeatedly shouted over participants, claiming the topic on whether Black Lives Matter is harmful to racial relations is too racist and bigoted to be discussed.
Holding signs with statements such as "my life is not a debate" and "black lives are not up for debate," as well as chanting "Black Lives Matter," hundreds of protesters filed into the room where the Michigan Political Union, a non-partisan parliamentary forum that facilitates discussions about contemporary issues, was just beginning its debate Tuesday night.
Michigan Political Union's President student Joshua Strup had attempted to hold the door into the venue closed as those at the debate heard the crowd of protestors approaching, as the room was already filled to capacity, but to no avail. The protesters burst through and stood along the room's four walls as well as the walkways between chairs.
Comments and yelling ensued between the protesters and Strup, as well as student moderator Carlos Owens, both of whom attempted to quiet the crowd. But the protesters would not be silenced. They shouted out a series of chants after they entered the room, including "racists hurt race relations," "black lives are not up for debate, and neither is mine," and "if you are neutral in situations of injustice, you have chosen the side of the oppressor."
After their shouting spree, they laid on the ground to conduct a die-in demonstration. Thereafter, whenever a debate participant tried to speak, they would shout over them. Much of their comments were laced with profanity.
"You're irrelevant [because] you're white," one protester shouted as student debater Jacob Roodvoets attempted to issue the speech he had prepared.
Roodvoets managed to get a few lines of his speech uttered, including: "If you're a poor Appalachian, white transgender, I want to support you. We need to address these issues with a broad face movement, a movement that incorporates all Americans."
But when Roodvoets stated he was a supporter of the "All Lives Matter Movement," he was immediately interrupted with jeers and vulgar comments. Owens, the student moderator, attempted to regain what little order was left in the room, but was unsuccessful.
Protesters also stomped their feet and continued with various chants, such as "no justice, no peace." This continued for nearly an hour, and as such the debate could not proceed as planned.
Protester says dialogue isn't for educating white people pic.twitter.com/gdtSno8ZEA

— Jacqueline Charniga (@jccharniga) September 28, 2016
The event itself was the subject of controversy even before it began when the University of Michigan Central Student Government released a statement that called the debate topic bigoted. The student government also referenced racist posters found on campus last week (that stated white girls should not date black men) in its denunciation of the debate.
"[F]rom a planned debate that devalues the #BlackLivesMatter movement to the overt racism of the aforementioned posters, we are forced once again to confront bigotry here at Michigan," the student government stated.
The official debate prompt read: "Resolution: Black Lives Matter is harmful to racial relations in the United States."
When Owen's banged the gavel to close the debate, the crowd again jeered and called out, with one female protester shouting: "We are underrepresented by people like you who are of privilege and won't let us talk. What's the point of open dialogue then?"
In an interview after the debate, student protester Raenell Williams said she was angry because she felt she was not invited or wanted at the event.
"For me, the reason I commented and decided to protest, was because I don't believe it's fair for someone who doesn't attend our meetings, isn't involved in the Black Lives Matter movement, and is privileged to decide whether or not our movement is harmful to race relations in the United States," Williams said.
Protesters were not only made up of current University of Michigan students, but also alumni and even local Pioneer High School students. Estimates put the crowd of demonstrators at anywhere from 250 to 450 participants, many of whom could not fit into the debate venue and remained in the lobby.
Following the debate, Strup said he was disappointed with the outcome.
"Obviously we are a little disappointed not able to have a good and structured conversation to enable greater understanding of both sides, but we did adhere to university policy of diversion and equity," he said. "We believe in all voices being heard and I hope that the people who were here and those who read about it are able to move our society forward."
Some students also voiced additional frustrations with the turn of events.
"[The student government] has acted in a pathetically small-minded way, taking sides when they ought to represent all students' interests — including their right to assemble and engage in political speech, especially in such an acrimonious and divisive election cycle," Deion Kathawa, editor of the Michigan Review, stated on Facebook. " … The student government has decided that it's a good idea to effectively denounce a debate on a topic because some people feel triggered that it's happening, on a public university campus."
MORE: Protesters hijack conservative student meeting, call them 'white supremacists'
MORE: Student called 'white b*tch,' told 'kill yourself' over op-ed that upset liberal peers
MORE: College students who openly support Trump censored, threatened, bullied by professors, peers
Like The College Fix on Facebook / Follow us on Twitter