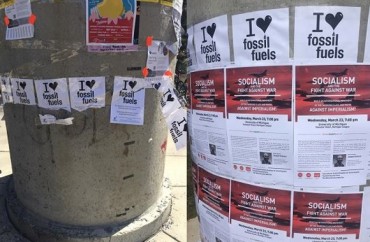 UPDATED
At the University of Michigan – where a cadre of students is clamoring for fossil fuel divestment – flyers hung around campus touting an upcoming talk to discuss the benefits of fossil fuels were ripped up and covered with pro-socialism posters.
The vandalized flyers advertised a Young Americans for Liberty event called "The Moral Case for Fossil Fuels" by Professor Pierre Desrochers. He is slated to talk March 23 on how fossil fuels and capitalism help the environment and improve the world.
In one instance, flyers touting the pro-fossil fuels event were covered with posters highlighting an alternative event at the same time elsewhere on campus by The Socialist Equality Party called "Socialism and the Fight against War."
In two other cases, the flyers – which boasted large "I love fossil fuels" block letter advertising "Moral Case for Fossil Fuels" – were simply ripped off: some from a public posting wall, and others in the chemistry building.
RELATED: Professors spurn researcher critical of campus fossil fuel divestment crusades
Organizers of the event said they were disappointed – but not surprised – by the vandalism.
"There is little culture of free exchange for ideas at the University of Michigan. This intolerance is only spread through our reinforced biases," said Kayla Garthus, co-president of Young Americans for Liberty, in an interview with The College Fix.
The vandalism also took place on a campus that is in the midst of an ideological battle over the pros and cons of fossil fuels.
The decision to host Epstein was motivated by a campaign of students last semester that lobbied the university to divest from fossil fuels. That effort was bolstered by an editorial in the mainstream campus newspaper titled "Phase out fossil fuels."
RELATED: Professor warns students: Planet on verge of global apocalypse due to human activity
Dissent from that view is not altogether welcomed on campus.
When Young Americans for Liberty co-president Daisy Belden wrote a column for the conservative-leaning Michigan Review to defend fossil fuels, it received ridicule in online comments.
But even University of Michigan President Mark Schlissel has swatted down pleas to divest from fossil fuels, telling protesters in a statement that while he appreciates their "commitment and passion," their request is not "linked to immoral and unethical actions and ideologies."
"Fossil fuels enable us to operate the university, to conduct research and to provide patient care," he said. "At this moment, there is no viable alternative to fossil fuels at the necessary scale. In addition, most of the same companies that extract or use fossil fuels are also investing heavily in a transition to natural gas or renewables, in response to market forces and regulatory activity."
"I do not believe that a persuasive argument has been made that divestment by the U-M will speed up the necessary transition from coal to renewable or less polluting sources of energy."
As for the vandalism of the fossil fuels posters, it marks the third time in the last two weeks advertisements for controversial and conservative/libertarian-leaning events have been destroyed or stolen.
Last week, flyers promoting a panel of Jewish conservatives hosted by Young Americans for Freedom were torn away from a public posting wall. This week, a banner touting an upcoming appearance by conservative Ben Shapiro was defaced.
CORRECTION: A previous version of this article said Professor Alex Epstein was to speak at the fossil fuels event. In fact it is Pierre Desrochers. 
RELATED: Environmental Justice 101 – Professors argue capitalism abuses poor minorities through pollution
Like The College Fix on Facebook / Follow us on Twitter