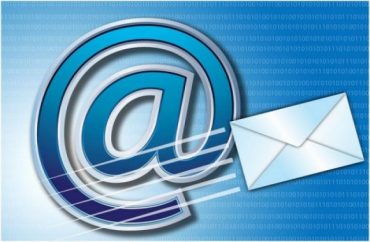 Diversity administrator: 'We must speak against policies that seek to repress, exclude and deny'
A top University of Louisville official recently sent a mass email to students encouraging them to stand against policies proposed by President Donald Trump — drawing criticism from some students and prompting the administrator to voice "regret" for her initial email.
Although not mentioning Trump by name, Mordean Taylor-Archer, vice provost for diversity and international affairs at the University of Louisville, said in her emailed Oct. 31 statement to the campus community that "we must speak against policies that seek to repress, exclude and deny the rights of others."
She went on to cite current policies stemming from the Republican Trump administration.
"These would include the proposed policy that would define gender at birth, acts that separate immigrant children from their parents and the deployment of military to stop immigrants who traveled thousands of miles to seek freedom and opportunities from entering this country," the email stated.
Citing hate crimes and the synagogue massacre in Pittsburgh, Taylor-Archer also told students "[n]or can we be silent regarding our commitment to join in the fight against racism, sexism, anti-Semitism, ethnocentrism, and other 'isms' that are the antitheses of inclusion, social justice, fairness, equity and the tenets on which this country was built."
Some students at the school deemed this mass email to be inappropriate, given its apparent left-leaning stance on political issues, and as a result, several students filed complaints with the university.
One of these students, Aaron Spalding, told The College Fix he filed a complaint because he felt the vice provost tried to influence the campus political climate.
"[T]he email spoke and called for students to stand up against current policies and stances of President Donald Trump. Said statement, from an official UofL account and from a Vice Provost, is grossly inappropriate given we are a week before midterm elections," he said via email.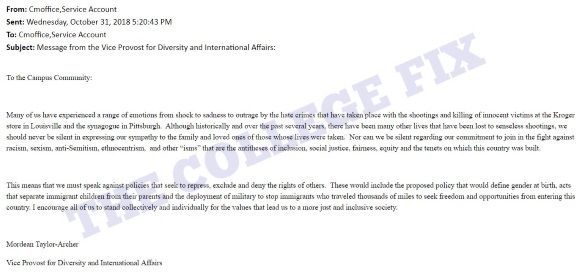 "[T]o officially call on students in such a manner not only ostracizes those who may share the President's stance on said policies, but also implies that the official stance of the university is that students who share in the president's ideals malefically 'repress, exclude, and deny the rights of others.' As one such student, I feel personally insulted that such an implication has been made and that is has been loosely affiliated to the aforementioned grotesque acts of violence," he said.
The College Fix contacted the university to ask if they thought the mass email was appropriate, and received the following response from a campus spokesperson:
The University of Louisville is proud of its history of promoting social justice, and we continue to strive for diversity, equity and inclusion. That includes diversity of political thought. Supporting our campus and the community is important during difficult times. Many students, faculty and staff had raised concerns about recent issues, including the shootings only a few miles from our campuses. While attempting to show support, the email sent Wednesday may have suggested that UofL was taking sides on political issues. The university does not advocate for any political party, candidate or positions.
After receiving backlash, Taylor-Archer later sent out a clarifying email.
"While attempting to show support for those members of campus, I inadvertently alienated others. That was not my intent. I regret if my comments suggested that the university was taking sides on political issues. The university does not advocate for any political party, candidate or positions. The issues I cited are controversial but provide opportunities for us to engage in civil discourse. I look forward to having these productive conversations among our community in the future," Taylor-Archer wrote.
As a result of Taylor-Archer's second email, Spalding withdrew his complaint, he said.
MORE: Trump impeachment class offered again at San Diego State
IMAGE: JASE Group LLC / Flickr
Like The College Fix on Facebook / Follow us on Twitter