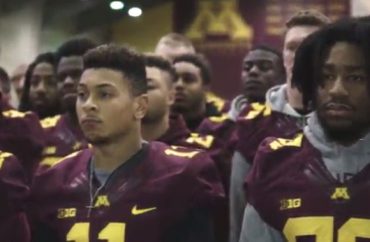 The difference between a millennial and a Gen X-er
The University of Minnesota's proceeding against 10 football players accused of rape appears to be drawing to a close, with four expelled, two suspended for a year and four cleared of wrongdoing with no explanation, according to Minnesota Daily Friday evening.
It's been a strange case from the start. The football team launched a short-lived boycott, citing lack of due process, but quickly folded once someone leaked the unredacted investigative report against the players.
They were never criminally charged, possibly because they had video evidence of the group sex that apparently depicted the accuser's consent under state law.
But one thing jumped out at me from the start of the case, and it had nothing to do with the allegations.
Minnesota Daily has consistently referred to the unidentified accuser as "victim-survivor" – a term I have yet to see in any other campus newspaper. I decided to ask why.
Is it life-threatening?
How to identify the accuser in ongoing sexual-misconduct cases is a minefield for journalists. "Accuser" sounds hostile and skeptical (Satan is "The Accuser" in Christian scripture, after all).
But "victim" implies a concluded adjudication when a case is very much live – and may never resolve. In a 10-year study at one Northeastern university that found 6 percent of allegations were provably false, a plurality of sexual-misconduct cases (45 percent) "did not proceed":
[That means] there was insufficient evidence, the accuser was uncooperative, or the incident did not meet the legal standard of assault. An additional 13.9 percent of cases could not be categorized due to lack of information.
The safest and most accurate term is "complainant," but it's likely to confuse readers without a legal background.
The worst of all is the politically loaded "survivor," which has been largely adopted by campus sexual-assault activists (as is their right) and too often used by student journalists (without careful consideration of what they are conveying to readers).
Panel upholds expulsions for four football players, two others suspendedhttps://t.co/guDGx9JSEr pic.twitter.com/2xOKMoM3XA

— Minnesota Daily (@mndailynews) February 4, 2017
"Survivor" takes "victim" and adds "life-threatening" to the mix. It's intended to shut down scrutiny from the start by saying, in effect, "how dare you question this student who barely made it out of this traumatic encounter alive."
So why coin a compound word that could be translated "the most victimized person imaginable," when the campus context for sexual misconduct is more likely to be severe miscommunication, impaired by drinking?
We are 'being fair to everyone'
Daily Projects Editor Jessie Bekker walked me through the process of how the newsroom settled on this term in a phone call shortly after the new year, before the final punishments had been laid down against the players. (Their lawyers are weighing a federal lawsuit.)
"There was no huge roundtable discussion for us on this," but "quite a few smaller, more informal discussions with our staff and our editors over the past several months," Bekker said.
They actually stuck with "victim-survivor" because they saw it as a way of "being fair to everyone," she continued: "Victim" is the "traditional" term often used in police reports.
"Survivor" both acknowledges how complainants often describe themselves and how their mental health can be harmed by whatever happened during the sexual encounter, Bekker said.
To the Daily staff, it represented a "middle ground": Either term by itself felt "biased." By using the compound term, "we're saying 'we're not making a call on what we believe'" happened in a dispute, she said.
This wasn't what I was expecting. To my old-school ears, there's no doubt or hesitance implied by "victim-survivor." It is telling readers "the accused person is guilty of threatening someone's life."
But it didn't strike these student journalists as a loaded term. As Bekker explained, they perceived it as a halfway point between a term they saw in legal documents ("victim") and the more casual terminology of the student population ("survivor").
Attorney says football players didn't receive due process in UMN hearinghttps://t.co/KbB26y9Yy1 pic.twitter.com/QOlQyITW19

— Minnesota Daily (@mndailynews) February 6, 2017
I also had to ask about another curious modification: "potential." Indeed, the phrase "potential victim-survivor" showed up in three stories since July, two of them about the football players. Why use it, and how do you make that call? I asked.
Bekker said that choosing that phrase was a "judgment call" by the reporter and editor each time, and it was analogous to "alleged" – a way of signaling to readers that "it's their prerogative" to decide in their own mind how to evaluate a claim.
She said the football players and their representatives never complained about the terminology, and readers haven't had a strong reaction either way.
The staff discussions about this case served as a warmup for what will be future newsroom talks about the terminology they use for other alleged crimes and disciplinary investigations, according to Bekker.
From activist to journalist in two weeks
I sat on our interview for a month, waiting for a more timely angle.
When the university handed down punishments and exonerations Friday and I started researching this column, I noticed the first appearance of "victim-survivor" in the Daily (using Google advanced search rather than MNdaily.com's own search) was eight months earlier than I had thought: Nov. 12, 2015.
The news report about federal due-process legislation, which would grant stronger protections to accused students, quoted the head of the campus sexual-assault services center: "We don't support anything that takes away the rights of victim-survivors."
The center's mission: "To serve all victims/survivors/concerned people of sexual assault…"
The term made its way into a story about untested rape kits two weeks later, outside of a quoted source. The reporter or editor used "victim-survivor" as a generic term in paraphrasing both a sheriff's official and campus police lieutenant – people unlikely to use it of their own volition.
This should be troubling to anyone who cares about the independence of journalism from overtly political language. Between Veterans Day and Thanksgiving, "victim-survivor" went from strategic wielding by a campus activist to the Daily itself replacing what law enforcement officials told a reporter.
The next usage as a generic term? Two weeks after that. And then five months before it reappeared. Its final mention before the football case – with a "potential" modifier – was July, albeit in an opinion column.
This surprised me: There was apparently an informal infrastructure for "victim-survivor" a full year before the football allegations broke, and it was laid when a reporter or editor cribbed an activist's lexicon.
It doesn't look like anyone planned it. Like a one-night stand, it just happened. And then happened again, and again.
I'm not averse to news organizations having deliberative discussions about the terms they will add to their style on a rolling basis. Maybe the Daily staff would have chosen "victim-survivor" last fall without the term's occasional appearance in news copy for a year prior.
But to the activists on every side who are trying to subtly infect the mainstream media with their political lexicon, this was certainly a welcome example of what they can accomplish without anyone noticing.
Like The College Fix on Facebook / Follow us on Twitter