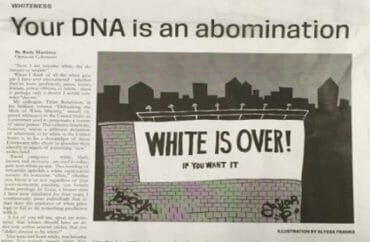 The University Star, the student newspaper at Texas State University, has fired the author of a controversial opinion piece that proclaimed "white death will mean liberation for all" amid calls from a growing chorus of students that the paper should be defunded.
"The author of this column has jeopardized the atmosphere of inclusivity at this university and will no longer be published in The University Star," stated an editors' note atop an apology note to readers from the Editorial Board which stated "we screwed up."
The board pledged to install a more rigorous column vetting process, noting "we fully acknowledge the repercussions of our actions in allowing for such an incendiary and divisive column to make it into print. We were unequivocally wrong in printing it. It was neither constructive nor appropriate."
The editor of the publication did not respond to a request from The College Fix seeking comment Saturday. The author of the column, Rudy Martinez, also did not respond to a request for comment.
The apology came two days after the Nov. 28 op-ed "Your DNA is an abomination" made national headlines due to its aggressive language celebrating "white death." This caused anger and angst among many Texas State students who perceived the article to be blatantly racist.
More recently, members of the Bobcat Liberty Council, a coalition of conservative students on campus, have thrown their support behind a petition started by their Director of Operations, Collin Pruett. The petition, titled "Defund the Racist University Star," argues that mandatory student fees should not be used to support the publication.
"Though each and every individual is entitled to their opinion, they are not entitled to the money from our pockets. Our tuition dollars should not support the call for annihilation of an entire group of people based upon something as arbitrary as skin color," the petition states.
Student body president Connor Clegg also released a statement demanding that either the editorial board resign or the paper be defunded. Clegg stated that "to wish for the elimination of an entire race is an ignorant, dated, and close-minded opinion, one that does not belong on our campus" in his press release.
If the top editors do not resign, Clegg stated he will call for an emergency meeting of the Student Service Fee Committee to "reevaluate the paper's funding and call for a full divestment of student fees from the Star."
Pruett told The College Fix via email that the latest situation is nothing new, that the Star has a history of printing incendiary columns.
He pointed to an op-ed published in June of this year titled "Freedom of speech is for white people." In it, author Tafari Robertson argues that free speech is mainly a tool that white people use to advance their causes.
He cited another example from The Star published in October that argued wealthy people should not be allowed to reproduce. The op-ed by Brad Waldraff advocates stripping reproduction rights away from wealthy people to protect the environment.
"It is unethical for the wealthy to have children, not because they may outstep some preordained boundary, but because the system that creates their wealth is fundamentally destructive," it stated.
Pruett said he and his right-of-center peers are tired of being forced to pay mandatory student fees to fund such assertions.
"After years of the editors of the paper running hateful articles ranging from 'Your DNA is an Abomination' to 'Free Speech is for White People,' students at Texas State are calling for our tuition dollars to be yanked from the paper's coffers," Pruett told The Fix.
The petition has garnered about 1,600 signatures so far.
Pruett said the "Bobcat Liberty Council" is made up of student groups at Texas State including the Young Conservatives of Texas, Turning Point USA and the College Republicans, and was formed to "fight back against" extremist elements at their public university, "including the University Star."
"The university administration never commented on those extremist articles because conservatives on campus were not organized and ready to blow the whistle," Pruett said.
"While we believe and endorse freedom of speech, we do not believe our tuition dollars should fund hateful rhetoric that erode our university's values," he continued. "This was the primary motive for starting the petition, which has garnered widespread support with campus and with parents of Bobcats. We hope that our student government and our university administration will listen to our concerns and act to rectify this situation."
In addition to the Bobcat Liberty Council and student body president Connor Clegg, the Texas State Alumni Association also spoke out out against The University Star.
In a Facebook statement, the Alumni Association said they have received messages expressing concern over the op-ed and share their concerns.
Texas State President Denise Trauth also released a statement denouncing the "racist opinion column" that the Star ran as "abhorrent" and "contrary to the core values of inclusion and unity that our Bobcat students, faculty, and staff hold dear."
"As president of a university that celebrates its inclusive culture, I detest racism in any manifestation," Trauth said in the statement.
While Trauth says she respects that The Star lets students share their opinions freely, she says she expects the "student editors to exercise good judgment in determining the content that they print."
MORE: Student columnist defends his op-ed celebrating 'white death,' says it isn't racist
Like The College Fix on Facebook / Follow us on Twitter