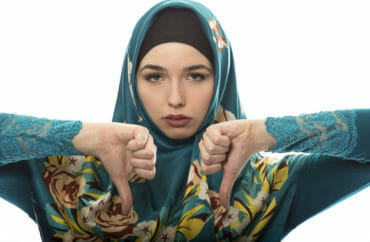 Muslim students at Columbia University are so irked at the conditions of on-campus prayer rooms that they've started a video campaign calling for improvements.
Muslim Student Association complaints include cleanliness and access issues, and "a lack of space in which female Muslim students feel comfortable praying."
The Columbia Spectator reports the campus currently has four prayers spaces available, but Muslim students claim these "do not adequately meet the current needs" of the community. In addition, "aspects of the prayer spaces have discouraged them from being used for prayer," and some students have felt humiliated "due to the lack of respect shown to holy spaces."
The story notes Milbank Hall's prayer space is a "poorly maintained" small room in the building's basement.
"'It's not a place I'd want any student to be in," said Yeliz Sezgin, the Student Government Association representative for food and dining services at Barnard. "It's a health hazard. It's filthy, the floor looks like it's never been vacuumed, the Quran was just thrown in the closet, and there was a shoebox with broken glass in the closet."
Students also cited moldy and crumbling ceilings and a single, yellowing pillow that had been in the room as long as they could remember. There had also been a fan in the room that went missing over the summer, rendering the room too hot for students to pray in.

In a statement to Spectator, Associate Dean for Student Life Emy Cardoza said Barnard's Office of Student Life will work with Facilities to address the maintenance concerns.

Earl Hall's prayer space is particularly hard to navigate for female Muslim students. Though Muslim prayer is traditionally conducted with a separation of the genders, the space allocated to women in Earl Hall is extremely small.

"The women's prayer space in Earl is so small and so confined," Mikyle Hassanali, the vice president of MSA, said. "There needs to be an equal prayer space."

The Nussbaum prayer space is partially inaccessible to students, because the hours are limited and access requires being given a key. Similarly, a number of Muslim students have expressed confusion over the location of the space, often saying they had never used it.

Aside from its maintenance concerns, the prayer space in Milbank is shared with another room, which can only be accessed by passing through the space through a door at the back wall of the prayer room. This side room is the office and storage space for Barnard Bartending and contains two shopping carts filled with alcoholic beverages, along with bartending paraphernalia.

In Islam, consumption of alcohol is forbidden.
Student Zawareen Zakaria said she "felt like crying" when she saw the Milbank prayer space, and said a new space at the Milstein Center — "located behind the staircase" and provides two new prayer rugs and new yoga mats — "speaks to a lack of support for Muslim students on campus."
"Yoga isn't praying, and praying isn't yoga," Sezgin added. "Yoga is an exercise; you sweat. There are very different uses for both of these mats."
MORE: Researcher: Islamophobia is making Muslims sick — literally
MORE: Public univ. organizes Muslim religious celebration, claims it's 'cultural'
IMAGE: Rommel Canlas/Shutterstock.com
Like The College Fix on Facebook / Follow us on Twitter