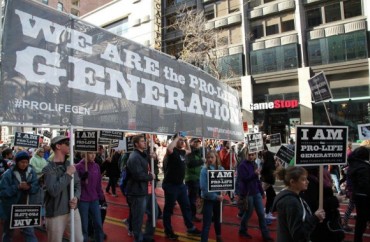 By sheer numbers, pro-life student activists are clobbering their pro-choice opponents.
Students for Life of America said Thursday that it now has more than 1,000 student groups across colleges, high schools, law and medical schools, and in young professionals groups – more than half started by SFLA's national field team.
The number climbed by fewer than 100 new chapters every year since SFLA's founding in 2006, with the exception of 2007 – which nearly doubled the first year's group total – and 2016, which hit 1,043 chapters over 2015's 901 chapters, according to figures provided to The College Fix by SFLA spokeswoman Kristina Hernandez.
MORE: Black pro-life speaker called 'f*cking piece of sh*t' at Harvard Law
Its staff has also grown from a single full-timer to more than two dozen, plus part-time staff and consultants.
Student chapters qualify as SFLA affiliates as long as they host "one activity a semester" – from diaper drives for campus mothers to bringing pro-life speakers to campus – "but most do several and are positive forces on their campuses," SFLA said in its blog post.
We are #1000strong! That's right – there are over 1,000 #prolife groups in our nation! We will abolish abortion! pic.twitter.com/ptrcBb3fdA

— Students for Life (@Students4LifeHQ) June 23, 2016
Planned Parenthood's latest report puts its "Generation Action" clubs at more than 275 across the country. Its key priorities are "inclusivity, abortion stigma, trans inclusion, elections, and movement/power building."
MORE: Georgetown clamps down on pro-lifers at PP speech (VIDEO)
Those figures don't cover all groups that take an interest in abortion on the pro or con side. SFLA's Hernandez noted it doesn't include Medical Students for Choice, whose website isn't clear on how many of its affiliated groups in "180 locations worldwide" are school-based or in America.
MORE: Pro-life students get free speech concessions in settlement 
Like The College Fix on Facebook / Follow us on Twitter
IMAGE: Sade Patterson