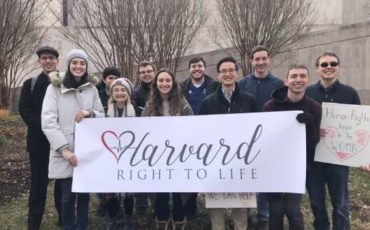 Groups on both Catholic and secular campuses offer practical help and words of support
Pro-life groups on campuses throughout the country are offering encouragement and concrete help to pregnant women with renewed urgency now that states can pass their own laws on abortion following the recent Dobbs v. Jackson Women's Health Organization Supreme Court decision.
"With the overturning of Roe, we hope to give more of a focus to the beauty of alternatives to abortion, such as adoption," Sophia Cook, president of Cardinals for Life at the Catholic University of America in D.C., told The College Fix in a recent email.
Students in the pro-life group at CUA, located in the heart of Washington, D.C., volunteer at a local pregnancy resource center, Cook wrote.
"Through community outreach and education initiatives, with a particular emphasis on prayer, CFL strives to promulgate a message of hope and love, rooted in Catholic social teaching," according to its website. The group conducts "activities such as monthly speakers, weekly Sidewalk Prayer, community service, attending the Students for Life of America Conference and Pro-Life Summit, and participation in both the Vigil for Life and the March for Life."
Pro-life groups at secular universities emphasize that pregnant women are 'not alone'
The pro-life club at Texas A&M University, a public institution with over 72,000 students, advocates for its pregnant students' rights when it comes to available resources on campus.
"With the Supreme Court's decision, we'll likely have even more students who need support," Jackson Roberson, vice president of the Texas A&M pro-life club, told The Fix in an email. "For many college students, it is a high stress and financially difficult experience…we think it's incredibly important for students to receive support, and especially for them to know that they are not alone."
His group, Pro-Life Aggies, offers a scholarship to pregnant and parenting students by sponsoring a "Run for Their Lives" 5K fundraiser on campus.
The Aggies also "offer babysitting services to students and do volunteer work with our local pregnancy centers," Roberson wrote. Students also write letters to mothers living in a local maternity home.
The Aggies' Instagram page posted a video immediately following the overturning of Roe, providing a list of places and services available in the area for pregnant and parenting students to access.
"You are not alone!" the video caption stated.
The pro-life group at Harvard also posted on Instagram in support of the reversal. "Roe has been overturned! SCOTUS ruled 6-3 in the defense of life!" their post read. "This is a great victory for life and justice for the 63 million babies who have been killed by abortion."
Harvard Right to Life hosts speakers and high school conferences and supports pregnancy resource centers, according to its website.
The College Fix contacted Harvard Right to Life via Instagram to ask about how it has served pregnant students and families in the past year and how the Roe reversal has affected its approach. It has not received a response.
MORE: Pro-life students raised over $100K in one year
Image: Harvard Right to Life/Facebook
Like The College Fix on Facebook / Follow us on Twitter