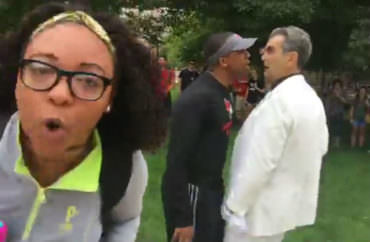 'I hope he will repent of his sins and commit his life to Jesus'
A fire-and-brimstone minister known for unsolicited open-air preaching on college campuses provoked such outrage at Illinois State University Tuesday that his wife ended up in the hospital.
University media relations told The College Fix that police are investigating the altercation between Cindy Smock and a man in the crowd who allegedly bowled her over while she was filming her husband Jed's call to repent to bystanders.
The Smocks travel the country with their organization Campus Ministry USA, based in Terre Haute, Indiana, with the mission of bringing Proverbs 27:5 to college students: "Open rebuke is better than secret love."
Another man had been arguing with "Brother Jed," as he's widely known, as "Sister Cindy" was filming them on Facebook Live.
"Are you God, [n-word]?" the black man asks Jed, who responds "I'm a white guy." They continue arguing before a white man turns his attention toward Cindy: "Get that phone out of my face."
MORE: College paper editor fired for feeding sidewalk preachers
She does not acknowledge the man's demand several seconds before a wordless off-camera struggle takes place in which the man makes off with her phone. With the video still streaming, the man is confronted by several individuals.
"Are you an idiot?" another man asks the thief, who retorts "She's fucking recording me. She had a phone in my face."
"You knocked her over and assaulted her," says a man who confronted the thief, promising to call the police.
Ankle broken by a student 'who had heckled us for years'
Cindy Smock was unable to clearly recall the attack in a phone call with The Fix minutes after being discharged in a wheelchair from BroMenn Medical Center in Normal, Illinois.
"I remember coming down on my foot," she said, numbed by pain medication the hospital physicians gave her before she left. "Basically my ankle is broken in two places and was dislocated."
She was "a little bit tired" and hadn't watched the video that captured the altercation. "He came from behind and grabbed my phone," so she was unable to see the alleged attacker's face, but she later recognized him. A good samaritan recovered her phone and gave it back to her, Cindy said.
She gave The Fix a photo identifying the alleged assailant, who is seen in the video and appears to be a student.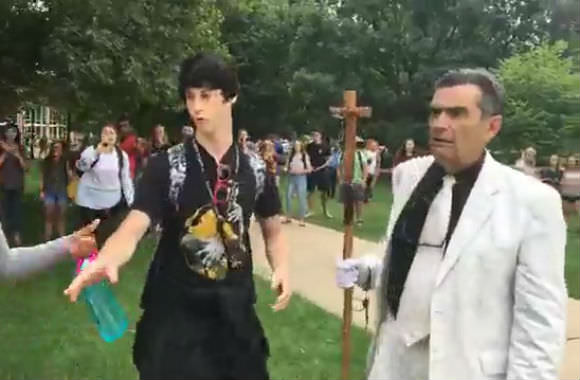 MORE: Hellfire preachers, grace-based pastor, students clash at U. Arizona
In a Facebook post after she spoke to The Fix, Cindy said the man who took her phone was a student "who had heckled us for years." She said she had to see an orthopedic surgeon about her foot.
Recounting her three decades as a traveling companion to Brother Jed to The Fix, Cindy recalled being scratched at Ohio State University and pushed from a wall during her pregnancy with her first daughter at San Francisco State. She's not the first in the family to get a broken ankle during a hellfire sermon on campus — that would be Jed.
Cindy said she spoke to campus police before being escorted to the hospital in an ambulance and hopes they will bring the still-unidentified man to justice: "I hope he will repent of his sins and commit his life to Jesus."
MORE: UT police scrap citation given to preacher for 'offending' students
"This was reported to the Illinois State University Police Department this afternoon," ISU Director of Media Relations Erik Jome told The Fix in an email Tuesday. "ISUPD is currently investigating the incident."
Police chief Aaron Woodruff did not immediately respond to a phone call requesting comment. Cindy told The Fix that she and Jed didn't warn campus police they were coming but would do so the next time they visited ISU.
When Brother Jed visited the University of Arizona for a week in 2014, students made a bingo game for every time he used words including "damnation" and "masturbation." (Brother Jed offers his own bingo games.)
Oregon State University's president apologized to students who were upset by Smock's visit in 2015, saying they should go to police when faced with "repeated inappropriate behavior" from visitors.
The Smocks' website says their preaching is focused on "fornication," "drunkenness," "marijuana and other drugs" and "homosexual acts or sodomy."
MORE: Public university president apologizes for not violating rights of preacher
Like The College Fix on Facebook / Follow us on Twitter
IMAGE: Jed Smock/Facebook