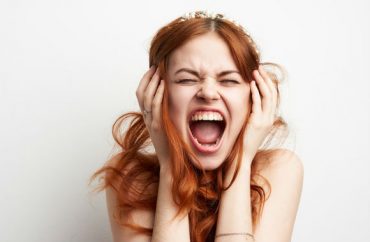 Media 'biased beyond any hope' of reporting it honestly
A moral panic about rape culture is driving colleges to leave due process behind — and it's ruining the lives of young men falsely accused of rape, a new book argues.
The authors of The Campus Rape Frenzy want to upend rules that they believe are weaponizing a Nixon-era federal law meant to toughen gender equality standards in public education.
KC Johnson, a history professor at Brooklyn College who chronicles college rape accusations for Minding the Campus, and journalist Stuart Taylor, Jr. argue convincingly that colleges have proven themselves incapable of competently investigating rape accusations.
They also show how the Obama administration's 2011 pronouncement on new enforcement rules for Title IX, whose primary regulations were set decades earlier, has saddled colleges with an obligation to find guilt where there is none.
MORE: Dozens of posters for 'Campus Rape Hysteria' talk torn down
A wide-ranging critique of campus rape tribunals, Frenzy savages every sacred cow held dear by due process-averse defenders — from made-up-on-the-spot sexual-assault statistics to loaded language that prejudices investigations by labeling accusers as "victims" before any findings.
Johnson and Taylor call the media "biased beyond any hope" of reporting on rape accusations honestly, citing examples where the mantra "believe the victim" has led credulous outlets to repeat false rape claims.
The worst offender is Rolling Stone's Sabrina Erdely, who found her poster child for ignored rape victims  in "Jackie." The University of Virginia (UVA) student's literally unbelievable story of horrific gang rape by Phi Kappa Psi fraternity members, coupled with the administrators' alleged callous indifference to her accusations, was ammunition for accuser-rights activists.
If not for the skepticism of Reason's Robby Soave, the damage might have gone much deeper. Last year a federal jury awarded $3 million in damages  to former UVA Associate Dean Nicole Eramo in her defamation lawsuit against Rolling Stone and Erdely. UVA's Phi Kappa Psi is asking for $25 million in state court.
MORE: Law prof who slammed kangaroo courts could lead civil-rights office
While The New York Times admitted to mistakes in its reporting of the 2008 prosecution of members of the Duke lacrosse team — in which media roused a near-lynch mob against three male players on false charges of rape, based on specious evidence and contradictory statements by a stripper — Frenzy shows how even mainstream media, including the Times, have continued irresponsible reporting. Worse still, progressive media, as ever, have lambasted those who question their stories — including Jezebel, which called Reason's Soave an "idiot" for disbelieving the Jackie story.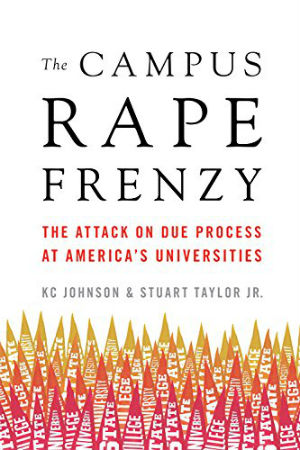 Frenzy doesn't believe in sacred cows, and rape statistics are no exception.
A popular claim, cited by President Barack Obama, that one in five college females are sexually assaulted originated in a 2007 survey and has purportedly been verified in following surveys. But they all relied on broad or undefined notions of assault and intoxication, and alleged victims most often said they didn't report assaults because they didn't think they were "serious" or didn't want "action taken."
Frenzy points much of the blame for the trend of bogus rape statistics on clinical psychologist David Lisak, now retired from the University of Massachusetts. His 2002 research paper attributing the lion's share of campus rapes to just a few individuals has propelled him into near-academic superstardom in accuser-rights circles. Lisak's incredible claims that college rapists were responsible for as many as six rapes each, debunked by Reason, is largely responsible for political pressure to dismantle due process.
Faulty as they may be, alarmist rape statistics have eroded public support for due process, and readers will find Frenzy to be a veritable encyclopedia of such misleading and false statistics. A dress-down of phony rape statistics, such as the debunking delivered in Frenzy, has never been more deserving.
These statistics, eagerly clung to by campus feminists, suggest either that colleges are sanctuaries for rapists, comparable with war zones or Iraq under ISIS, or that their favorite talking points are feminist claptrap, the book poses.
MORE: Yale sexual-assault report suggests it's more violent than Detroit
Fortunately for women who don't have a vested interest in promoting campus rape hysteria, the answer Frenzy suggests is that rape simply occurs much less frequently than the public imagines — about one in 40 female college students is sexually assaulted over four years, says an FBI statistic endorsed by Frenzy.
In perhaps its most salient point, the book addresses how entrusting colleges with the obligation to conduct rape investigations is harmful to all parties.
The "best case scenario" of a college investigation finding someone responsible for sexual assault has the rapist expelled and "walking the streets," it says, quoting Adam Goldstein, then a lawyer for the Student Press Law Center, in a 2013 New York Times article.
Indeed, several prominent rape cases mentioned in the book, including that of Stanford swimmer Brock Turner, received better justice than possible under Title IX when victims also pressed criminal charges.
Frenzy may play well to those angry about rampant victimhood culture, but it's also a book for anyone interested in true equality. It acknowledges that colleges have treated victims of sexual assault unfairly in the past, but convincingly argues that the current system is an "overcorrection" that stacks the odds against men.
Anyone who has paid attention to adjudication in higher education during the last eight years should remain unsurprised by the argument that colleges are uninterested in fair investigation of sexual assaults. Overcoming the distortion of laws meant to enhance gender equality is a tall order for our current presidential administration. The horror stories contained in Frenzy add urgency to fix the problem at a time when it is much needed.
MORE: Feminist author says 'rape culture hysteria' is built on hate speech
MORE: Student accused of rape after his lover became transgender
MORE: Maryland might teach kids that boys are presumed guilty
Like The College Fix on Facebook / Follow us on Twitter
IMAGES: ViChizh/Shutterstock, Encounter Books