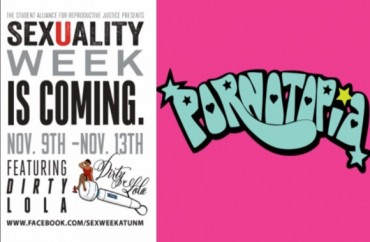 Why my university's sex week should be renamed 'sex miseducation week'
SexUality Week at the University of New Mexico came as no surprise this November. It's a tradition that began last year, and will apparently continue to reach many students every fall now on at my university.
After a controversial premier in the fall of 2014 with a parade of racy topics, such as a how-to on threesomes, Students for Reproductive Justice independently hosted sex week this time rather than the university.
RELATED: Public University's Sex Week Includes 'Negotiating Successful Threesomes' Event
The goal, organizers say, was to inform students about what they deem is necessary sexual education, as well as to promote tolerance of various sexual proclivities.
Finding common ground
Before I delve into the egregious topics at this year's sex week, which took place in mid-November,  I would like to establish common ground with my peers.
As president of UNM's Students for Life, we can all agree sexual education is not only necessary, but vital for students. Without this education, we see more teenagers and young adults face unplanned pregnancies, engage in more casual and irresponsible sex, contract sexually transmitted infections (STIs), and face sexual assaults. This can result in dropping out of school, being pressured into having an abortion, and becoming objectified and taken advantage of. Sexual education should be in schools.
But SexUality Week at UNM was a week full of miseducation. Here is why.
SexUality Week told students birth control and abortion is healthy
As president of the campus Students for Life, I attended many of the seminars put on by my Students for Reproductive Justice peers. One such event was "Birds and the Bees 2.0: Better Birth Control, Abortion, and STI Education." It welcomed former medical director and abortionist of Planned Parenthood Diana Koster.
Koster promoted the IUD and other birth control methods in her presentation. She also addressed the many concerns people have on the health of hormonal contraception. Koster claimed that the pill is safer than being pregnant – not giving any evidence for this. When asked, she also denied that the pill has been ranked as a carcinogen and increases the risk of breast, cervical, and liver cancer, despite evidence of this supported by organizations such as the National Cancer Institute.
RELATED: UPDATE: University Apologizes for its Extreme 'Sex Week' Activities
Koster's evidence to support her opposition to these findings: "I know that is not true… The risk is so small. It's good medicine…Planned Parenthood does it."
I then decided to ask Koster about the negative effects of abortion, which has been proven to lead to breast cancer, an increased risk in suicide, Post-Abortion Stress Syndrome, infertility, and many other complications. Her response did not surprise me: "Safe legal abortion, done by the proper providers…umm…the only real risk is an infection if the person doesn't take their antibiotics."
It become very evident to me that promoting Planned Parenthood – where 86 percent of its revenue comes from abortions, where its officials often do not report sexual assault, and which is under the investigation for selling aborted fetal parts for profit – was more important to Koster than telling women the truth about the risks of birth control and abortion.
SexUality Week told students the Bible supports premarital, polygamous, homosexual sex
What do the Bible and the Torah say about sex? Proverbs 5:18-19 talks about pleasure. 1 Corinthians 7:2 commands monogamous marriages. 1 Thessalonians 4:3-5 highlights the needs for self-control. Matthew 5:28 abhors objectifying women. 1 Corinthians 6:9-10 and Leviticus 20:13 speaks against adultery, and homosexuality.
Knowing this, I was very surprised when three members of "Torah and Bible-based" faiths used scripture to support premarital, polygamous and homosexual sex during a panel on religion and sex.
RELATED: University Of New Mexico's Sex Week Violates Its Own Speech Code
Jewish Rabbi, Arthur Flicker, said his Jewish faith believes "people are born lesbian or gay…God created them this way." Rev. Angela Herrera, who is a minister of a local liberal Unitarian church, said she felt "the right to sexual wholeness and healthy sexual expression is a human right." Her faith testifies that this human right should not discriminate against homosexual, premarital or polygamous sex. Lastly, Fr. Frank Quintana from Blessed Oscar Romero said the Archdiocese of Santa Fe does not support his "progressive values," which affirms and promotes the rights and ordainment of the homosexual and LGBT community.
SexUality Week promoted casual, experimental sex
But the largest event at Sex Week proved to offer the most miseducation of them all.
"Sex Ed A Go Go" featured Dirty Lola and the Pussy Posse, who came to "inspire students libido and open their mind to a world of sexual possibilities, one question at a time," according to organizers.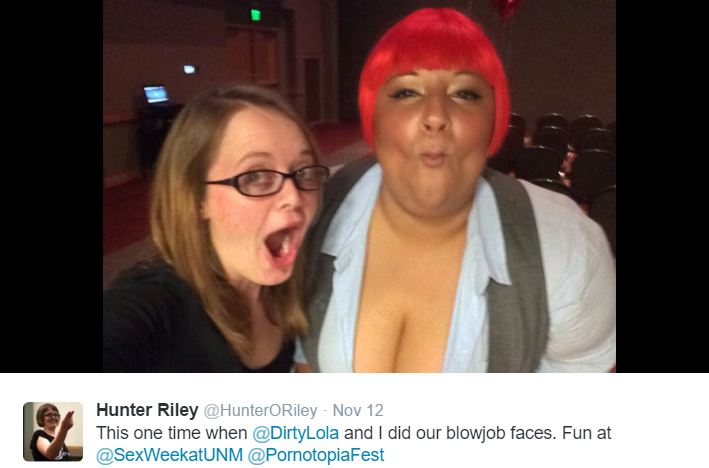 At the event, students could find their own condom, pack of lubricant, glow stick, and a flyer to the weekend event, Pornotopia, on each chair. Dirty Lola invited two organizers onto the stage. They began answering questions students had asked about consent while intoxicated and heightened pleasure. But the conversation soon shifted to advice on using lube for chap stick after oral sex, sharing in detail the past month of each speakers' sex life, geeky kink experiences, and advice on how to have quicker orgasms and get laid by playing "the long game."
Dirty Lola then gave more "education" to students, going into detail about her recently opened-marriage and her most recent orgy that she participated in. Students were not warned of the consequences of care-free sex, or all their options on campus if they found themselves pregnant. Students for Life was never mentioned once.
Students for Life set up a booth outside the event to counteract that, and we hope some students reach out to us if need be.
We cannot expect a better society if we teach young people that irresponsible sex comes with no consequences. Thankfully there are groups on campus that offer alternatives to the mantra at universities today that casual, experimental sex is fun and harmless.
RELATED: Fox News Show 'Red Eye' Talks About University Of New Mexico 'Sex Week'
Like The College Fix on Facebook / Follow us on Twitter
Like The College Fix on Facebook / Follow us on Twitter