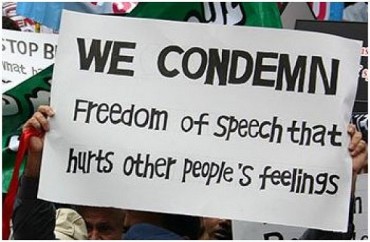 As Chris Taylor quoted in the film Platoon, "Hell is the impossibility of reason." A recent incident at the University of Alberta proves this point (yet again).
Kathleen Lowrey, a professor of anthropology at the school, technically was fired from her position as associate chair of undergraduate programs in the Department of Anthropology for creating an "unsafe" environment for students, The Centre for Free Expression reports.
The reality is more of an eye-roller: Lowrey is known for being open about her non-politically correct opinions on sex and gender, which is known as "gender-critical." In a nutshell, she doesn't believe that sex/gender is a "social construct."
Lowrey was asked to resign back in March but refused, telling the university it "would need to put its reasons for [dismissing her] in writing." Shortly thereafter, she received a letter from Dean of Arts Lesley Cormack merely stating that "it is not in the best interests of the students or the University" for her to continue in her position.
Keep in mind no formal complaint was made against the professor. According to the CFE, the request for Lowrey's resignation was based on "one or more students [going] to the University's Office of Safe Disclosure and Human Rights and the Dean of Students, André Costopolous" to voice their misgivings. Nothing in writing was ever put in motion.
Prof. Lowrey told The Christian Post she was "brushed off" when she requested a detailed explanation from the dean:
"Institutional memory lives on paper," Lowrey said.

"Five years from now, if you look at this letter and it doesn't say [the reason for dismissal] so it could have been that I was coming into work drunk every day. It could be that I was stealing all the office supplies. It could be anything. I said: 'Could you specify?'" she said, explaining her request for a detailed list of reasons as to why she was dismissed.

But she knew why they were dismissing her because she had conversations in which they told her that it was because of her views. The dean reportedly wrote back and said such a letter would not be productive. In Lowrey's view, the university's position, which she disagrees with, appears to be that unlike her teaching and research, a service role such as an associate chair of the department is not protected by academic freedom so the school will not be obligated to respond to a grievance of this kind.

The anthropology professor finds it worrisome that what happened to her might soon be applied to other employees, positing as an example someone in the registrar's office tweeting a quip about a news article on a "pregnant man," that such a joke could constitute a basis for termination should a student complain about "hate speech."
The CFE's Carolyn Sale notes it is an "offense against academic freedom" for UA to claim Lowrey is "entirely free to teach and research what she wishes, [but] it has the right to pull her from a service role because students dislike some of her ideas."
"Academic freedom […] applies to all aspects of a professor's work," Sale says. That work is "conventionally defined" as "40% teaching, 40% research, and 20% service." The last segment involves running a department where applicable (as it does in Lowrey's case).
But, Sale says, "universities are not to be 'run' only by those who hold approved ideas."
Read the CFE piece and Christian Post article.
MORE: Claim: Transgender activist lied about getting feminist critic fired from univ.
MORE: At University of Alberta, a Wiccan chaplain thrives
IMAGE: Sam Graham / Flickr.com
Like The College Fix on Facebook / Follow us on Twitter