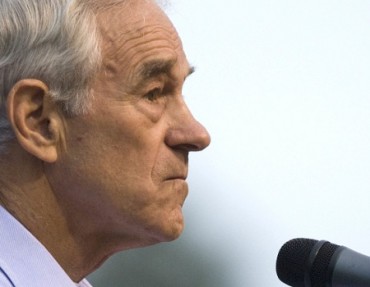 In the first of three campus town halls in California this week, presidential candidate Ron Paul spoke at California State University, Fullerton on Wednesday night.
Though not as loud, raucous, or numerous as the crowd that greeted him at UCLA last month, last night's showing filled half of Titan Stadium, which has capacity for 10,000 people. Another two hundred observers listened from outside the stadium, according to campus police working the event.
Paul has been touring campuses across the country for several months. Each time, he has drawn crowds in the thousands. In a campaign e-mail advertising this week's SoCal events, he wrote, "And my hope is that ALL of these young voters will show up and vote in the California Primary on June 5."
With the voter registration deadline of May 21 swiftly approaching in California, campaign volunteers covered extensive ground at the huge venue. Around every corner their voices could be heard saying, "Register by May 21st" and "Make sure you check the Republican box!"
Campaign volunteers would not comment specifically on the delegate strategy in California, but one volunteer at a voter registration booth did say that their focus is on voters, now that "the delegates are squared away."
Paul supporters have had considerable success against Mitt Romney in picking up delegates in Colorado and Minnesota, in part due to Conservative Unity Slates with Santorum and Gingrich supporters. Now that Paul and Romney are the only two candidates for the Republican nomination, Paul's grassroots support network is hustling to draw in voters who no longer have their first candidate of choice.
A young man and woman–Paul supporters who claimed to have completed 500 and 700 campaign calls, respectively, in a single day–stood in the line around Titan Stadium before the candidate's speech. Along with them was their friend, Noah Caird, who said his choice this election cycle had always been between Santorum and Paul.
"I just know I'm not going to vote for someone who supports abortion," he said.
Paul is personally against abortion but sees the issue as one to be handled by the states, not the federal government.
During his speech, Paul drew cheers with his usual calls to repeal the PATRIOT Act and to restore personal and economic liberties, but he also framed his points in terms of more recent current events. Without directly mentioning the recent passage in the House of Representatives of the Cybersecurity Information and Sharing Protection Act (CISPA), he quickly turned his call to action toward maintaining the free flow of information.
"The good side of it: We have the Internet," he said. "The scary part of it is they know it, and they're trying to take the Internet away from us—and we're not going to let them."
He also discussed the National Security Agency's Utah Data Center, which Wired recently reported is intended to "intercept, decipher, analyze, and store vast swaths of the world's communications as they zap down from satellites and zip through the underground and undersea cables of international, foreign, and domestic cables."
For his part, Paul warned that the data center "can hold more records than any one establishment before it," and he condemned the NSA for its intention to track so much data.
"They don't need that kind of information," he said. "They're supposed to do the opposite. We're supposed to have openness in government and privacy for the people."
Fix Contributor Julie Ershadi is a graduate of Bryn Mawr College.
Click here to Like The College Fix on Facebook.