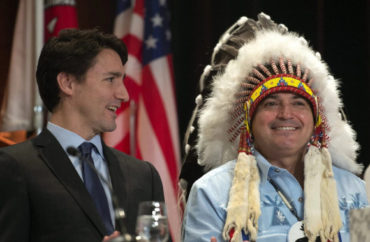 Several Carleton University students took to Parliament Hill in Ottawa last week to hold a "reoccupation" of Canada Day.
The goal? To draw attention "to the history and oppression of the aboriginal people."
Protest organizer Freddy Stoneypoint told Al Jazeera "The goal of the reoccupation is to express our indigenous sovereignty in the face of these toxic national celebrations.
"As an indigenous person, this is an opportune moment to make our community, which has been rendered invisible by the colonial occupation, known."
Stoneypoint and four Carleton peers set up a teepee in what they say is the "traditional territory of the Algonquin people."
Sacred fire lit on unceded Algonquin territory. Human chain formed around teepee and fire. #Reoccupation #Unsettle150 pic.twitter.com/XRiFmKX7Xw

— Daniel Cayley-Daoust (@DanCayley) July 1, 2017
Stoneypoint called it a "violent act" and "self serving" when Canadian Prime Minister Justin Trudeau met with a group at the teepee on Friday.
In addition to the reoccupation teepee ceremony, many other indigenous groups and activists have planned events and protests for Saturday.

Idle No More and Defenders of the Land, two networks of indigenous communities, have called for a National Day of Action, centred on the theme of "UNsettling Canada 150".

Inspired by First Nations political leader Arthur Manuel, who died in January, organisers called on members of the indigenous community and its supporters to "educate" the Canadian population about their "right to self determination".

"I do not wish to celebrate Canada stealing our land. That is what Canadians will be celebrating on July 1, the theft of 99.8 percent of our land, leaving us on reserves that make up only 0.2 percent of the territories of given to us by the Creator," Manuel wrote in his last article before he died. …

"For many of us from the grassroots, we find it repugnant that Canada is celebrating 150 years of what we consider is racism and genocide and colonialism," [Mohawk Nation's Russ] Diabo said when asked what message the high price-tag sends to the indigenous community. …

"It just gives indigenous people in Canada a message that we're disposable and our humanity isn't as important as celebrating settler land theft and 150 years of oppression on indigenous territories," said [Sakihitowin] Awasis.
PM Trudeau said at a news conference Canadians should treat with respect those who don't wish to celebrate the holiday: "We just have to make sure we deal with what are going to be historic crowds on Canada Day on the Hill but also deal with people in a respectful and a responsible way."
MORE: Petition to replace Columbus Day with 'Indigenous Peoples Day' at U. Oklahoma
MORE: Students vote to rename Columbus Day 'Indigenous People's Day'
Like The College Fix on Facebook / Follow us on Twitter
IMAGE: Renegade98/Flickr