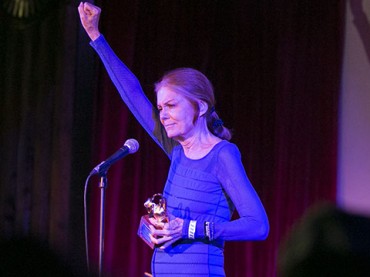 Steinem and allies turned 'a disgusting and degrading crime' into 'the most fundamental right'
A feminist leader will lay out the pro-life history of women's rights activists at a Catholic college this week.
Her invitation to speak didn't come from St. Norbert College, however – it came from a student group that was upset the school rolled out the red carpet for an icon of the abortion-rights movement.
Feminists for Life of America President Serrin Foster's speech planned for Thursday, on the "feminist case against abortion," follows Gloria Steinem's address to the college last week.
The school trumpeted Steinem's coming appearance as early as September. It announced Foster's visit, as well as the full schedule for the second annual Pro-Life Week hosted by the Knights for Life student group, just last week.
A secular organization that seeks to help women considering abortion, Feminists for Life recently started a campaign to educate university professors about the pro-life history of early American feminists.
'Abortion is a form of domestic violence'
Steinem, who has stated that her own abortion at 22 was a positive experience and said abortion would be considered a "sacrament" if men got pregnant, was invited by St. Norbert to speak about domestic violence.
TFP Student Action, a project of the American Society for the Defense of Tradition, Family and Property, tried to get St. Norbert to cancel Steinem's appearance by circulating a petition that drew nearly 28,000 signatures.
"How on earth can a woman like Gloria Steinem who has such a public pro-abortion and anti-Catholic record be invited to give a lecture at a Catholic institute [sic], which ought to be a cornerstone in the defense of innocent life and moral values?" the group said.
Foster wants to reclaim the pro-life roots of the women's movement. Contrary to Steinem's view, "Abortion is a form of domestic violence," Foster told The College Fix in a phone interview.
Her Thursday speech will lay out how "the early feminists condemned abortion in no uncertain terms," Foster said. "We have a wealth of evidence contradicting the lie that feminists must support abortion."
The "second wave feminist movement of the 1970s," in which Steinem was a notable figure, turned "a disgusting and degrading crime" into "the most fundamental right," Foster said. Her own organization was born as a result of a split among feminists in the runup to Roe v. Wade.
In addition to recounting the history of feminist foremothers, Foster will speak about her group's efforts on campus to "systematically eliminate the causes that drive women to abortion — primarily, the lack of practical resources and support — through holistic, woman centered solutions."
'Not a direct response' to Steinem's invitation
Shaun Johnson, campus minister at the college and adviser to its Knights for Life student group, invited Foster to speak in the wake of Steinem's lecture.
Johnson told The Fix by email that Foster's invitation was "not a direct response" to Steinem's appearance, though "the invitation did come as a way to build off of the energy and frustration centering around" the abortion-rights icon's visit.
"Knights for Life wanted to make sure to continue the conversation about feminism, and particularly wanted to direct and focus the attention around a vision of feminism which seeks to uphold the dignity and respect for life that is consistent with the College's Catholic and Norbertine Mission," Johnson said.
Feminists for Life is heavily involved in advocating for better campus resources for pregnant college students and spreading awareness of their presence. Foster told The Fix the group has made great strides since its first pregnancy resource forum at Georgetown University in 1997.
Through its new effort to disseminate pro-life feminist writings to college professors of women's history, launched during Women's History Month in March, the group will give professors copies of the magazine First Wave Feminists: Remarkable Pro-Life Women and Other Suffragists You Should Know.
It's partnering with Students for Life of America to give extra copies to each SFLA campus chapter to "hand deliver" to women's history professors.
"The suffragists themselves will speak directly to professors," Foster said in the statement. "Many of them will learn for the very first time that our feminist foremothers opposed abortion because of their belief in the worth of ALL human beings — without exception."
College Fix reporter Kate Hardiman is a student at the University of Notre Dame.
Like The College Fix on Facebook / Follow us on Twitter
IMAGES: Greg Chow/Flickr, Susan Bentley/Pinterest