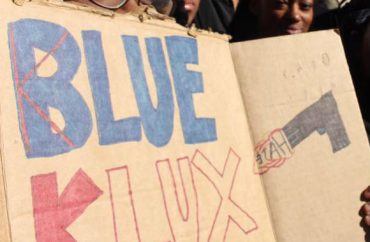 Protesters who call cops 'pigs' are 'living the mission'
Loyola University Chicago students started their protest last week by denouncing police brutality and ended it by comparing police to members of the Ku Klux Klan and pigs.
And Campus Ministry approved their comparisons.
"Proud and humbled by the die-in some of our black students did today," the Jesuit school's official organ for students' spiritual development wrote on both its Facebook page and Twitter account Sept. 26.
Proud and humbled by the die-in some of our black students did today. #BlackLivesMatter #livingthemission pic.twitter.com/2EFg1c0DVf

— LUC Campus Ministry (@LUC_Ministry) September 26, 2016
The protest was called partly in response to the Sept. 16 police shooting of Terence Crutcher in Tulsa, Okla., according to Chicago-area news source DNAinfo. It included "a walk down Sheridan Road where protestors sat for a moment of silence with fists raised" and a die-in in the student center.
One protester, SaCora Williams of Loyola's Black Cultural Center, told DNAinfo that she suffers "PTSD every time a [sic] hear a new shooting has happened."
MORE: Loyola adds diversity requirement, hikes tuition
Loyola's Campus Ministry used the hashtags #BlackLivesMatter and #livingthemission in its posts. "Living the mission" is likely in reference to both Loyola's mission statement and a larger theological mission statement; Saint Louis University, another Jesuit school, lists "Living the Mission" as the mission statement and goal of the university.
The hashtag suggests Loyola's Campus Ministry considers routine police work analogous to Jim Crow-era lynching.
Fight 1,000 new 'pigs' in uniform
The protest was arranged by the group "Black Students Matter LUC." It declined to tell The College Fix what its demands were or what prompted the protest, rebuffing multiple requests to its Facebook group.
A member of the group did tell the Loyola Phoenix the purpose of the protest was "to have a place to talk about the violence that's been ongoing these past couple years, but more specifically the past two weeks, with the shootings in Missouri and the one in South Carolina." It's not clear which shootings those are.
MORE: Stay out of 'safe spaces' to show 'cultural sensitivity'
According to the Phoenix, Chicago Mayor Rahm Emanuel's call to add 1,000 police officers also prompted the protest, as many of the speeches at the Black Students Matter LUC demonstration revolved around this local issue. Student protesters also spoke of the change in Loyola's demonstration policy, which facilitated their protest.
The university did not respond to a Fix request to explain whether Loyola officially supports Black Lives Matter.
The demonstration was hashtagged "#blackoutchi" (blackout Chicago). According to news reports and images from the protest, it largely focused on police brutality. Other signs featured phrases such as "legalize black skin."
'AmeriKKKa is not welcome'
One sign read "Blue Klux Klan," comparing police officers to the KKK. Continuing with the theme, another student held a sign saying "AmeriKKKa is not welcome #blackoutchi #1000pigs #leavemethefuckalone," referring to Mayor Emanuel's pledge to hire 1,000 new officers.
MORE: Renowned gay scholar denounced for criticizing feminism
The protest moved to a street near the Lake Shore campus, as protesters temporarily shut down traffic by sitting in the middle of the road.
Though Loyola has not given its position on the Black Lives Matter movement, it sponsored a "Black Lives Matter" conference last spring. The conference featured Precious Davis, a diversity director at Columbia College Chicago and transgender woman, as its keynote speaker.
Two years ago, a group of Loyola students hosted a week dedicated to the since-debunked "hands up, don't shoot" meme about Michael Brown, a young black man shot by a police officer in Ferguson, Missouri.
Campus Ministry claimed at the time that its role in the week was minor and consisted only of staff support for a prayer vigil.

MORE: 'Hands Up, Don't Shoot' contradicted by autopsy
Like The College Fix on Facebook / Follow us on Twitter
IMAGES: Trevaughn Latimer/Facebook