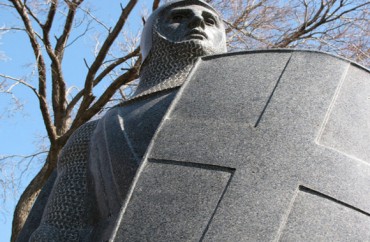 Students apathetic about name change; faculty show more interest
The College of the Holy Cross is considering changing the school's team name, the Crusaders, because of its connection to the Crusades in the Middle Ages.
Holy Cross professor Mark Freeman suggested that there are both "good and compelling reasons to keep the name, and there are good and compelling reasons to replace it," the Worcester Business Journal reported.
According to Holy Cross's website, the college has maintained the "Crusader" team name since 1925.
The president of the Worcester, Massachusetts college, Reverend Philip L. Boroughs, S.J., sent out a letter to alumni volunteers saying that he plans "to begin in the fall with a thoughtful dialogue about the College's identity, mission, and values." He further explained that the discussion would be centered around their "core values and identity."
Marisa Gregg, a spokeswoman for Holy Cross, confirmed in an email to The College Fix that Holy Cross "will begin a conversation in the fall" and that "a process for that exploration has not yet been determined."
This process was initiated because some "members of [the Holy Cross] community" were concerned about the "appropriateness of the 'Crusader' mascot," Gregg explained. The campus members voiced these concerns in "campus feedback sessions," which were open to both students and faculty.
Gregg told The Fix that "it isn't clear whether the feedback about the mascot came from faculty or students specifically."
This debate comes a few months after the student newspaper, The Crusader, also considered changing its name after dozens of members of the Holy Cross faculty suggested that the paper consider doing so. The faculty said The Crusader should consider the change because of "growing anti-Muslim tensions in our country, and the fact that KKK official newspaper shares the same name."
Sam Arciprete, the chief opinions editor of The Crusader, wrote in the newspaper around the same time that "the historical aspect of changing the name seems secondary in [his] mind if there are students on campus who feel marginalized by the name of their newspaper." He added that "there very well might not be a single student that finds the name offensive and doesn't see the connection between the name of our newspaper and whatever drew the KKK to the name The Crusader. But if even one student has a problem with the name of the newspaper, we have an obligation to hear the concerns and engage in a thoughtful discussion on the issue."
According to Arciprete—who did not respond to inquires from The College Fix—the engagement from the student body was not nearly as powerful as that of the professors. He suggested in his op-ed that the student body is "apathetic about the name of the newspaper" and that "few students have actually engaged in the discussion."

"We have received ZERO op-ed articles from students engaging on this topic," Arciprete added.
MORE: College Nixes 'Crusaders' Mascot, Says It's Too Controversial
MORE: Catholic university drops Crusaders mascot: 'troublesome, offensive'
Like The College Fix on Facebook / Follow us on Twitter
IMAGE: Flickr