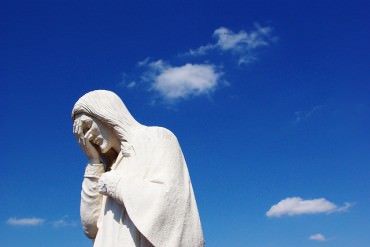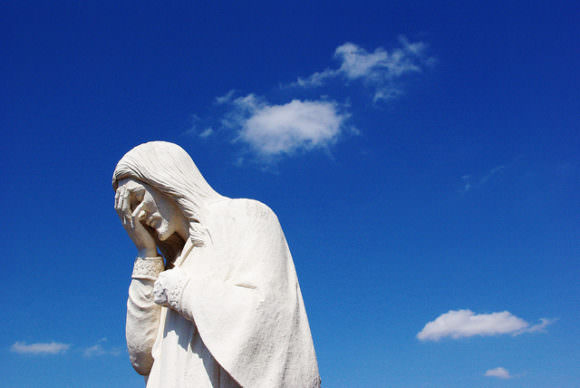 A San Francisco area Catholic school has removed several statues of religious figures — including Jesus and Mary — all in the name of, you guessed it, being "more inclusive."
Head of San Domenico School Cecily Stock said the decision was "to make sure that prospective families are aware that we are an independent school," adding that "[r]ight now about 80 percent of our families do not identify as Catholic."
Sister Maureen McInerney, prioress general of the Dominican Sisters of San Rafael, noted that "San Domenico is a Catholic school; it also welcomes people of all faiths. It is making an effort to be inclusive of all faiths."
According to The Washington Free Beacon, the independent Catholic school doesn't teach students about Catholic theology. The school's director of philosophy, ethics, and world religions, Mirza Khan, says this is "well within the school's Dominican tradition."
"The Dominican teaching philosophy is not to teach there is only one truth," Khan said. "It is to foster conversation, to intentionally invite in participants that have different perspectives in a very open-ended process of philosophical and spiritual inquiry."
The head of the San Domenico School's board of trustees noted the statue decision has nothing to do with the events in Charlottesville of two weeks ago.
Nevertheless, many are unhappy with this "inclusion" effort.
From the Marin Independent Journal:
In an email to the school's board of directors, Dominican Sisters of San Rafael and the head of school, Shannon Fitzpatrick objected to the removal of the statues and other steps the school has taken in an effort to make the school more inclusive.

"Articulating an inclusive foundation appears to mean letting go of San Domenico's 167-year tradition as a Dominican Catholic school and being both afraid and ashamed to celebrate one's heritage and beliefs," wrote Fitzpatrick, whose 8-year-old son attends the school.

She added, "In our time here, the word 'Catholic' has been removed from the mission statement, sacraments were removed from the curriculum, the lower school curriculum was changed to world religions, the logo and colors were changed to be 'less Catholic,' and the uniform was changed to be less Catholic."

Responding to follow-up questions Monday, Fitzpatrick wrote, "There are other families having the same concerns I do. Many parents feel if the school is heading in a different direction then the San Domenico community should have been notified before the signing of the enrollment for the following year."

Cheryl Newell, who had four children graduate from San Domenico, said, "I am extremely disappointed in the school and the direction they've been going. This isn't a new thing that they've been intentionally eroding their Catholic heritage. They're trying to be something for everyone and they're making no one happy."
Former San Domenico parent Kim Pipki said "The one main statue that has everyone fired up is the baby Jesus and Mary one. It was at the center of the primary school courtyard.
"It was less about God and more about passing on some traditions. People were shocked that the statues were pitched in the basement."
Read the full Free Beacon and Marin Independent Journal articles.
MORE: 'Jesus Lunches' to continue as school ceases attempts to shut them down
MORE: Catholic theologians put Eric Garner on par with Jesus in racial-justice manifesto
Like The College Fix on Facebook / Follow us on Twitter
IMAGE: JLWO/Flickr