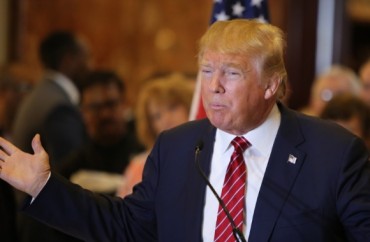 University of Detroit Mercy seeks to be 'safe place for people of all faiths and beliefs'
Faculty at the University of Detroit Mercy — a Jesuit Catholic institution — recently adopted a statement to "stand with the Muslim community against Islamophobia."
Faculty senate President Heather Hill-Vásquez said the statement was prompted by Republican presidential candidate Donald Trump's stance that, if elected president, he would institute a moratorium on Muslim immigration into the United States.
While the statement does not call Trump out by name, it states "anti-Muslim rhetoric emerging from a number of political figures on the national stage [is] reckless," adding it fosters "an atmosphere of violence and intolerance against Muslims and their places of worship across the nation."
The University of Detroit Mercy is close to Dearborn, Michigan, which has the largest population of Arab Americans in the U.S. Many students, faculty and staff at the school are of the Muslim faith, according to the statement.
It was approved by a vote of 25 to 2 in mid-December and emailed to students and alumni as well as posted on Facebook, declaring the university "is a sanctuary where the human rights and faith of all our students will be respected, and where discrimination or violence against any member of our community, faculty, or staff will not be tolerated."
RELATED: Public university chancellor condemns Trump in email to entire campus
Hill-Vásquez told The College Fix the statement aligns with Detroit Mercy's values.
"The university values intellect and logic," Hill-Vásquez said in a telephone interview earlier this week. "The faculty decided that what that presidential candidate was stating was not only illogical but unethical."
Hill-Vásquez said there have not been any reports of intolerance toward Muslims on the university's campus. She said she has received an "overwhelmingly positive" response from students and alumni about the passage of the statement.
"The hope is that in passing that statement and making it public to the university community as well as the university community outside into Detroit and beyond is stating that this is a safe place for people of all faiths and beliefs, ethnicities, genders, and so on and so forth," Hill-Vásquez said.
Although the university is a Catholic institution following the Jesuit and Mercy traditions, Hill-Vásquez said the statement concerning Muslims aligns with the principles of inclusiveness and compassion that the Catholic Church emphasizes.
The statement also declares its role in Detroit Mercy's purpose.
"The mission of our university, our ideals as American citizens, and our obligations as public intellectuals and educators, all demand that we take an unambiguous stance against bigotry and xenophobia," the statement said.
Like The College Fix on Facebook / Follow us on Twitter
IMAGE: A. Katz/Shutterstock.com