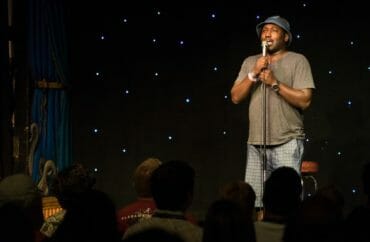 A comedian who performed Saturday night at Loyola University Chicago had his microphone cut off after making a joke about sexual abuse in the Catholic Church.
Consequence of Sound, a music and film news website, reports that stand-up comedian Hannibal Buress (pictured) had his microphone turned off at the Catholic university after he remarked "Y'all fuck kids, right?"
The provocative comment was made as Buress discussed the "content restrictions" Loyola had included in his contract to perform on campus. The Loyola Phoenix, the campus newspaper, reported that Buress "opened his set with pictures of an email he said he received from Loyola detailing the school's restrictions."
"Content restriction – Artist cannot have content about rape, sexual assault, race, sexual orientation/gender. Artist cannot mention illegal drugs or the use of," a bullet point on the email read, according to a picture of the email Buress shared with the crowd on a projector screen.
The email also stated that Buress was to have "limited use of profanities" in his stand-up routine.
"Bitch ass old people, I can project," Buress apparently said during his discussion of the content restrictions. "Y'all fuck kids, right?"
Following that remark, the Phoenix reports the comedian's microphone was immediately shut off:
After making a comment referencing priests' molestation of children, Buress' microphone cut out. The upset crowd booed but eventually quieted so Buress could perform without a microphone. The background music's volume was reportedly increased, according to attendees, and the comedian left the stage for 15 minutes. After the break, he returned and finished his set.
One Loyola student told the Phoenix that the decision to cut off the comedian's microphone created mayhem.
"I literally thought like I was about to witness a riot and I was ready to participate," Ally Boly said. "Also it's wild that Loyola preaches about speaking up and speaking out but they're gonna censor someone doing just that, like that's wild. Also I'm really impressed with all the Loyola kids that stood their ground and refused to leave without an explanation."
"This is ridiculous. We want Hannibal," one student tweeted Saturday night after the comedian's microphone was cut off.
Loyola just cut Hannibal's mic. This is ridiculous. We want Hannibal. @hannibalburess pic.twitter.com/uJqo2cSIpm

— Bung™ (@YaBoiiiTDog) March 18, 2018
The angry students eventually got their wish, as Buress returned to the stage after a short break and finished his performance:
After the break, Buress returned to a standing ovation from the crowd. He reportedly explained he was originally going to follow Loyola's content restriction until he saw that he'd already been paid for his performance ahead of time.

Buress reportedly made jokes about Loyola cutting his microphone throughout the rest of the night.
Saturday was not the first time that Buress has included a joke about sexual assault in his stand-up routine. Fox News reports the comedian is "best known for his persistent routines about the sexual assault allegations against Bill Cosby."
Read Consequence of Sound's article and the Phoenix's reporting.
MORE: Universities scrub alleged sexual harasser name from campuses
IMAGE: stock_photo_world/Shutterstock
Like The College Fix on Facebook / Follow us on Twitter