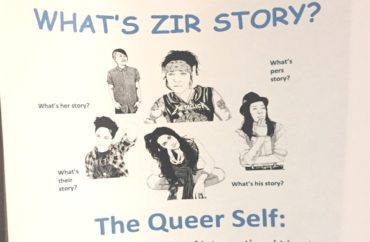 Marquette University, a Catholic school in Milwaukee, is slated to offer sexuality and gender studies courses this fall that celebrate "the queer self" and critique masculinity.
This has caught the attention of one student, the president of the Marquette University College Republicans Zachary Petrizzo, who told The College Fix the courses represent a departure from Catholic teachings and that the university is now Catholic "only in name."
Earlier this year, Marquette's Center for Gender and Sexualities Studies announced it would offer courses like "Introduction to Gender and Sexualities Studies," "Masculinities," and "The Queer Self: Narrative Explorations of Intersectional Identity" within its Gender and Sexualities Studies major.
A flyer for the masculinities class says it will focus on the subject with an emphasis on "violence, hyper masculinity, sexuality, socialization health and fathering." The "Queer Self" flyer includes a headline: "What's Zir Story?" It describes a course that will use narrative psychology to investigate the development of those who do not identify as heterosexual.
"We examine gender-nonconformity and transgender dynamics as well as a variety of sexual orientations and behaviors from a social justice orientation," adding the class pulls from "feminist methodology," the flyer states.
Readings for the course "The Queer Self," according to Professor Ed de St. Aubin, a psychology professor who teaches the class, are comprised largely of articles written in peer reviewed journals.
The goal of Marquette's Center for Gender and Sexualities Studies, according to its website, is "to educate students to recognize the huge diversity of gendered experiences and perspectives among people and to cultivate a disposition to embrace gender and sexuality diversity."
But Petrizzo said the courses "take away from what a Marquette education should be focused on, that of tradition, faith and reason."
Aubin disagrees. The classes "provide students with a high-quality education and…fill a void in our curriculum," he told The Fix via email.
He said these courses do not violate Marquette's Catholic identity.
"We are not a seminary," Aubin said. "We are a University with a Catholic and Jesuit foundation. The courses I teach are science based and it would be wrong to NOT offer these courses to our students."
Brian Dorrington, the Marquette campus spokesperson, could not be reached for comment.
These courses are not an isolated deviation from the Catholic Church at Marquette. Rather, this is part of a growing trend.
The university fired one of its conservative professors, John McAdams, after he criticized a fellow instructor for refusing to let a student disagree with gay marriage in her classroom.
Marquette also allowed queer students to celebrate Ash Wednesday Mass on campus with "Glitter Ashes," prompting criticism from parents and others.
MORE: Marquette hosts LGBT 'Pride Prom'
Like The College Fix on Facebook / Follow us on Twitter