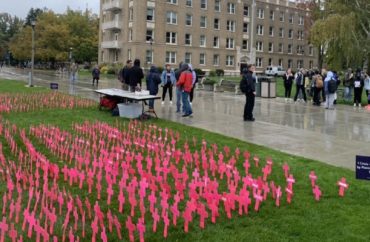 Reports remain anonymous even when students are questioned
Gonzaga University, a Jesuit Catholic institution in Washington, has investigated the pro-life group on campus after it received complaints stemming from an anti-Planned Parenthood display.
However, Gonzaga officials refused to provide Zags for Life with a copy of the complaints against it during a recent meeting about the activists' use of pink crosses. The pro-life club put up 972 crosses to represent the number of babies aborted by Planned Parenthood every day.
"The meeting went well, but harassment reports are confidential, so we can't obtain them," Karlie Lodjic, regional coordinator for Students for Life of America, told The College Fix. "The group president said they met with Gonzaga's BIAS Team and explained their display and why it didn't violate the university's mission statement."
Only the BIAS team is allowed to see the reports, Lodjic said.
"No action has been taken against the group by the administration, and the event is still generating conversations on campus about the dignity of human life," Lodjic said.
Pro-abortion students protested
Pro-abortion activists chanted "My Body, My Choice," according to campus paper The Gonzaga Bulletin. For the most part, both sides expressed their viewpoints. But some were not content with allowing the pro-lifers to have a place to share their views at the Catholic university.
Vice Provost of Student Affairs Kent Porterfield said that students had submitted reports to the Bias Incident Assessment and Support team.
A five-person team from campus ministry, student affairs, the diversity office, Title IX and the president's office planned to meet with the pro-life students and the complainants, according to the Gonzaga Bulletin.
"Our commitment to openness and free expression…does not protect harassment or expressions of bias or hate based on social identity," the diversity office tells people who want to submit reports.
Porterfield did not respond to multiple emails sent in the past three weeks.
The College Fix requested a copy of the bias reports and in a November 11 email asked for confirmation that the BIAS team did not share a copy of the complaints with Zags for Life.
Free-speech analyst says Gonzaga must protect due-process
Zach Greenberg, a senior program officer with the Foundation for Individual Rights in Education, told The Fix that Gonzaga's processes for investigation are concerning.
"Student groups should absolutely be able to see the complaints against them when facing university disciplinary action," Greenberg told The College Fix during a November 11 phone interview.
He said that even if students are not punished, meetings with administrators over speech can still chill free expression.
"Investigative meetings with administrators where discipline is suggested can chill speech," Greenberg said. "Even if no discipline results, requiring students to attend such meetings has a chilling effect because students will be deterred from speaking out again."
He said students who opposed the pro-life group's display should use their own free speech and not to file complaints.
"At FIRE we believe the answer is more speech…. the answer to these displays are other displays. It's always a more speech approach," Greenberg said.
MORE: Check out the Campus Cancel Culture Database
IMAGE: Gonzaga Bulletin
Like The College Fix on Facebook / Follow us on Twitter