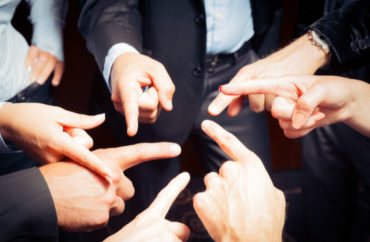 But it gives a loose definition of 'white'
Loyola University Chicago has chosen to renew a program limited to white students that appears to violate the Catholic school's own nondiscrimination policy.
Ramblers Analyzing Whiteness started three years ago as an "affinity space on campus for self-identified White students" who yearn to "become anti-racist, anti-supremacist White allies."
Naseeb Bhangal, the lead contact for RAW, confirmed to The College Fix in an email that the program will indeed be offered again when classes resume in the fall, "in light of growing interest and student participation since the program began in 2014-15."
Next year, the program will have a few cohorts comprised of six to 10 students who will attend workshops and work on projects related to racial justice, according to the RAW webpage.
While students who join the program must be "white-identified," students who are also biracial or multiracial are permitted to attend as long as they identify as white, according to the program description.
This "white-identified" provision appears to directly violate Loyola's Notice of Non-Discriminatory Policy, which posits that "Loyola University Chicago does not discriminate on the basis of race … in the administration of its … school administered programs."
RAW is administered by the Department of Student Diversity & Multicultural Affairs, which is led by professional staff.
MORE: Loyola lets students bypass Western Civ for 'diversity courses'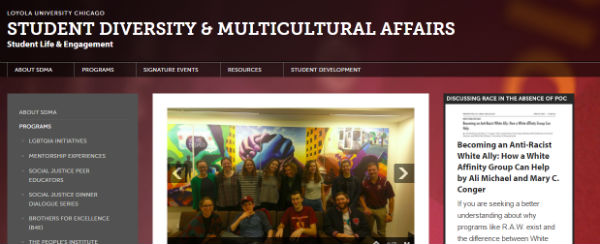 The program may be getting a pass under the nondiscrimination policy because of its loose definition of "white."
The RAW page says "there is no one accurate definition" of white, whose meaning has "changed throughout history."
It refers to whiteness as "a socially constructed category that is normalized within a system of privilege," as well as "a location of structural advantage" and "a set of cultural practices that are usually unmarked and unnamed."
It appears that Bhangal, the lead contact for RAW, has the final say over who is eligible to participate. RAW asks interested parties to contact Bhangal to confirm whether they are eligible.
Workshops for the 2017-2018 school year will cover issues including "Groundrules, Safe space, Vulnerability," "Unpacking and Unlearning White Privilege," and "Effective Ally Behavior."
Successful members of RAW must commit to attending all of the workshops held by the school's diversity office, roughly one per month during the academic year, with two excused absences allowed.
While the application for new interested students isn't online yet, the school plans to post the application for the program by July 14.
"We welcome students with little exposure to concepts of White privilege to students who have a desire to learn about allyship and anti-racist, anti-supremacist efforts that address racial justice," the program description says.
Loyola's three-person communications office did not respond to multiple email and phone requests for comment. Nor did its diversity office respond to requests.
MORE: Loyola PhD student says it's white privilege to admit your white privilege
Like The College Fix on Facebook / Follow us on Twitter
IMAGES: nullplus/Shutterstock, Loyola University Chicago screenshot